A little while ago, I was bemoaning the size of the LV Speedy 25. As the number indicates, it is about 25cm long and although its a good size, its just not quite big enough for my daily needs. Since then, I was gripped in a fever to get a similar handheld tote but larger. And one fateful day, my footsteps led me to the doors of the Gucci store.
Gucci, like LV and the many designer brands out there, is a very popular brand for the pirates. So, yes, the monogram of the interlocking GG does turn me off somewhat. But I also learnt that Gucci makes beautiful leather bags. They are pricey as per normal, but the quality is very good and if you ask me, they are quite underrated in this regard. I used to see loads of people toting Gucci everywhere quite a few years ago but now, I don't see them around very much anymore. The young especially, seem to shy away, preferring to go for LV. Well, it might be a good thing because I've actually noticed some really nice new designs popping up in Gucci that I'd prefer not to share 😉
Oh and not forgetting the Gucci classic – the Boston Bag.
As I was saying, I walked into the Gucci store to look around and my eye was immediately and irresistably drawn to this on the shelf behind the very friendly and pleasant SA. I have a thing for handheld totes in this design. Its not only very practical – no space wastage and the soft leather means you can fit a lot in there if you have to – its also very classic and will not go out of style.
Do you go for bags in this design? Or do you prefer the hobo style shoulder bags?
What I liked about this Vintage Web Boston Bag (as the Gucci.com site tells us) is that it comes with a detachable shoulder strap. Does this remind us of the LV Speedy Bandouliere that I lusted over before? 😉
The other thing I particularly liked about this specific design is that there was no logo. None to be seen anywhere on the bag. The only thing that tells you the brand is the little tab embossed with the brand name near the zipper, and the green and red stripe down the middle, which is the signature Gucci stripes. That's it! If you didn't know what that meant, it was pretty must just another bag and I loved that anonymity.
The leather is a soft calf leather which was absolutely gorgeous to the touch and pliable. Sizewise, it is markedly larger than the Speedy Bandouliere 25. On my 5'3″ frame, it did look a wee bit big. If I wanted, I could actually use it as a weekend or overnight bag if I didn't carry anything too bulky. So that was what made me hesitate.
The interior too gave me pause, as it was lined with a rather rough weave canvas. I don't know if it was what they originally lined the Boston Bags with but I was a bit torn about that.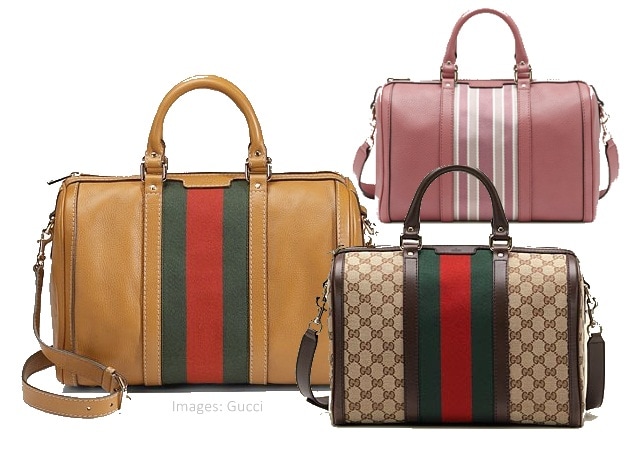 The leather version came in black, dark brown and tan. I preferred either the tan or the black so that too gave me pause. Couldn't choose LOL!
I can't recall the price off hand for the full leather version, but it might be in the region of RM5,000 which I wouldn't pay here, because I know its much more affordable overseas. I don't know what's with some of the mad mark ups we get. Luxury goods are supposed to be tax free here and yet, the prices are still stratospheric 😛
So, I may have found my larger alternative to the LV Empriente Speedy Bandouliere, and it too comes in full leather, with a much smaller pricetag. So whilst I will not pick this one up locally, I will do so if I see it on any of my travels. So long as the pricetag is lower than what I see here, it'll be mine! 😀
Do you like bags of this shape and design? Do you own the Gucci Vintage Boston Bag and would you recommend a buy? 😉
I know many people tend to prefer hobos as they can also fit a lot and you can sling them on your shoulder without having to fuss about holding it. But I feel that there's something quite elegant about a bag held in ones' hands, or even in the crook of the arm 😀
Paris B