We've had our fair share of BB Creams around that started out in Asia and have now exploded worldwide. It seems like every year brings a new brand with a new BB Cream. This year, Clarins will be joining in the fun. And yet, for some brands, BB (Blemish Balm) just isn't enough. They differentiate themselves by having CC creams instead. CC Cream, according to our good friend, Wikipedia, means "Color Control" creams and is supposed to be a more refined version of BB Cream with higher SPF, better coverage and a less oily texture. Think BB Cream V2.0 – everything you did not like in a BB Cream improved.
The brand that first popularized CC Creams was Rachel K back in 2011 – you can see it in Watson's stores locally and I will share my thoughts on the brand soon. I had seen it popping up on blogs back then and I'd seen it while browsing Watson's stores in Singapore but never bothered to try because I still don't do the whole all-in-one thing, the same way I don't buy into BB Creams. Then last year, rumblings surfaced of Chanel doing a CC Cream for the Asian market.
My personal prejudices aside, I recently received a flyer in the mail to inform that the Chanel CC Cream was available here in Malaysia and that I could hop down to pick up a sample. So I did.
Suffice to say, I had a terrible experience at the Chanel counter, where a big song and dance was made about the fact I didn't bring the flyer to collect the sample. It was interesting because there were no instructions to bring the flyer along, as was insisted. So we started off on a bad foot, Chanel and I.
That aside, I ended up with a 1ml sachet of CC Cream after standing my ground and telling them to check the system where my records are, and having provided personal details. What this means is if you don't have the flyer, you couldn't get a sample. Makes a lot of sense to me, Chanel! Anyway, I roadtested it for a day so this isn't a comprehensive review by any means. It is my "Just Sampling" review to reflect the sampling bit and just to share my perceptions on texture, mostly.
The Chanel CC Cream is termed a "Complete Correction" cream which addresses 5 actions – soothing sensitive skin, moisturizing the skin, SPF30 PA+++ uv protection, protects skin against skin aging and evens out imperfections on skin. All this, if you ask me, sounds very suspiciously like what BB Creams already are so I can't see the difference between this and your regular BB Cream, especially the newer incarnations.
In fact my theory is that Chanel is doing a CC Cream for vanity's sake – CC = their logo and happily ties into the latest trend to hit counters 😛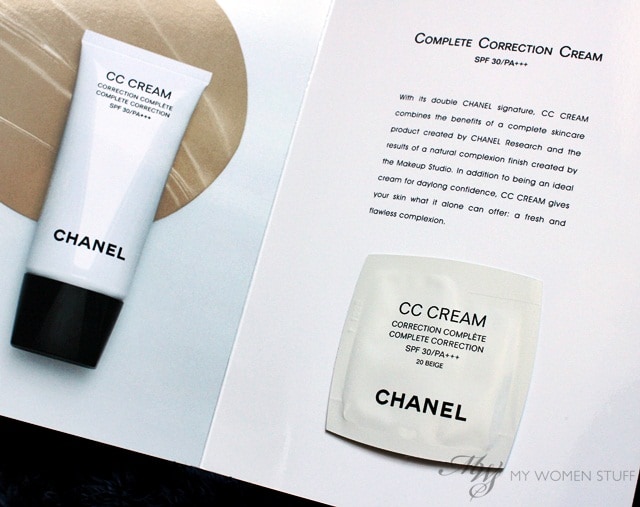 The Chanel CC Cream comes in only 1 shade – 020 Beige. What this means is that it will not suit all skintones, only the fair. I believe that Chanel targeted this primarily at the China market so anyone of medium skintone and above need not apply. In terms of shade, it is a bit yellow but it worked for my skin primarily because it was pretty sheer. It didn't oxidize unlike the Vitalumiere Aqua disaster so it was not bad. I seem to take Chanel B10 if that helps any and reports are that it will suit those who take anything from #10-20 in Chanel foundations.
The first thing you'd notice when you open the tube as I did at the counter, was the very strong scent in the product. It wasn't flowery, but fruity. In fact, it smells exactly like the Bourjois Healthy Mix foundation and Serum Gel Foundation. I kid you not. When you realise that Bourjois Cosmetics owns Chanel Cosmetics, it all makes sense. I'm just surprised it took them so long to adopt that beautiful texture of the Bourjois Healthy Mix foundations in Chanel. The difference is the scent is stronger and it lingers more compared to Bourjois.
The product is a little thick, reminding me more of the Healthy Mix than the Serum Gel formula. It is a little more yellow but like the Bourjois versions, it works with my skin. It feels creamy and it spreads well over skin but I'd say coverage is only medium as you will see below.
On left, is bare skin, spots, pigmentation marks and all in their glory in this difficult skin time 😛 On right is with 1 layer of the Chanel CC Cream, layered a little more over imperfections. It does even out my skintone, I'll give it that. But it hardly covers my pigmentation and marks around the chin.
I also felt that it accentuated flaky dry skin on my chin which you can't see in the picture but which I see when I look into the mirror, and my skin generally feels a little dry (I have combination-dry skin). After a few hours, I felt it was a bit oily to the touch, but my skin still felt dry. As a light foundation, I think it works well if the colour suits you. I wouldn't use it on its own without my regular skincare and sunscreen but that's me. I treat BB and CC creams the same – they are all foundation to me and personally, I'd rather wear proper foundation than either BB or CC Creams, except for weekends.
Comparison Swatches: (1) Chanel CC Cream 020 Beige (2) Bourjois Healthy Mix Serum Gel Foundation #51 Light Vanilla (3) Dior BB Cream Light (4) Bobbi Brown BB Cream Extra Light (5) Nars Radiant Tinted Moisturiser – Finland
I find the Chanel CC Cream thicker than Bourjois Healthy Mix Serum Gel but similar to the Healthy Mix foundation. In terms of shade, it was a bit deeper than #51 that I usually wear, but it sheers out. The Dior BB Cream is thicker than Chanel and offers better coverage but it is also a bit more pink than Chanel although not by much. Bobbi Brown BB Cream is lighter than Chanel in texture and colour but feels more comfortable on my skin. Chanel is also thicker than Nars in terms of texture but I find the Nars gives me better coverage and colour.
If made to choose from the BB Creams listed here, I'd pick the Dior BB Cream because it suits my skintone well, offers decent coverage and SPF50. My next choice would be Bobbi Brown for the same reasons. I would not pick the Chanel because it felt drying on my skin and accentuated flaky skin but it is otherwise not bad. But my ultimate choice would be the Bourjois Healthy Mix or Healthy Mix Serum Gel foundation. Its practically the CC Cream at a fraction of the price. Get that instead.
In a nutshell

Chanel is the first international major brand to introduce a CC Cream ahead of the BB Creams in the market. It claims to perform 5 functions in one cream which from what I can tell is pretty much what BB Creams are already doing – moisturise, sun protection, colour to even out skin imperfections. CC Creams are supposed to be better textured and offer more coverage and SPF than BB Creams. Based on my comparisons, I find them on par so I don't get the hype. I found the Chanel CC Cream does even out skintone quite well, spreads easily and isn't oily. I do however find it a little drying and seems to accentuate flaky skin. The scent is also very strong and it comes in only 1 shade so my advise is to check it out in person before buying, and if you are on a budget, just get the Bourjois foundations. They work just as well or better and cost a fraction of the price 🙂

Pros: Evens out skintone well, Light texture, Non oily, Does not oxidise

Cons: Strong fruity scent that lingers a little, Does not cover imperfections very well, Accentuates dry flaky skin, A little drying on my dry cheeks

Who will like this: Anyone who has oilier skin than I do, Anyone who prefers a lighter textured less oily all-in-one cream-moisturiser-sunscreen thingy
Here is the ingredient list from the back of the sachet
Ok I lied. This was supposed to be a "short review" and its turned out a thesis. Sorry! 😛 Was my experience of the product coloured by my experience at the counter? Well, yes, I am very sure that it did influence it. I deliberately waited 2 weeks before I tried it but I will admit that I'm probably not totally impartial. Shabby counter experiences do do that to you 🙂
Have you tried the Chanel CC Cream? Are you interested in it?
I believe this is available in Asia only for now. As you can probably tell, I was less than enamoured with it mainly because it reminded me too much of the Bourjois foundations. On its own, its not bad, really. But since I have a basis for comparison, I'd much rather pick up its cheaper sister that works beautifully well on my skin and doesn't feel dry nor accentuate flaky skin. You can also read more comprehensive thoughts on the Chanel CC Cream from Tine (Beautyholics Anonymous) and Valerie (Ponikuta) who both have the full size versions and have had longer experience with it than my 1 day.
Paris B
Chanel CC Complete Correction Cream Price: RM165/30ml Availability: Chanel counters