A little while ago, I lusted after the Louis Vuitton Empreinte Artsy MM. The Empreinte Monogram leather is a new leather by LV – pricier (and in my view better quality) than Epi leather but more affordable than say, Mahina! I've gone back a couple of time to fondle the new leather and it really is lovely and I'm told, very hard wearing too.
I stopped paying attention after I learnt (much to the relief of my bank account) that the Artsy MM was too large and too heavy for me. But recently, I've had 2 bag enablers (LeGeeque and AnT I'm looking at both of you!) not so gently push me in the direction of the new Speedy Bandoulière 25.
This is basically the iconic Speedy 25 done up in empreinte leather, with a detachable strap that allows you to wear it on your shoulder or cross body. The zip is a double zip with gold hardware, reminiscent of the Alma style of bag closure.
I went to have a fondle and gawk at it in store a couple of days back and I have to say, it looks much better in person. It helped that I was served by a very friendly and lovely SA, Syed at the Starhill boutique. I've always had better reception at the Starhill LV boutique compared to the ones in The Gardens or KLCC. I detest KLCC the most – it feels like a bar or market in there so I've only ever gone there once. The Starhill boutique feels the most luxurious, and the staff there have always been friendly and welcoming, whether I buy anything or not, and no matter how I dress. I have a nasty habit of dressing down when I go to these luxury boutiques. Its a good test of their level of service 😉
The Speedy Bandoulière is an upgrade of the Speedy design, and I happen to love the shape and design of the Speedy. I loved how the empreinte leather feels, and the Speedy isn't as heavy as the Artsy. I was concerned about the size however. I own the Speedy 25 and over the years, I've learnt that its a wee bit small for me. Granted, if I stopped trying to stuff the kitchen sink into all of my bags, I could survive with it, but I was a little concerned nonetheless.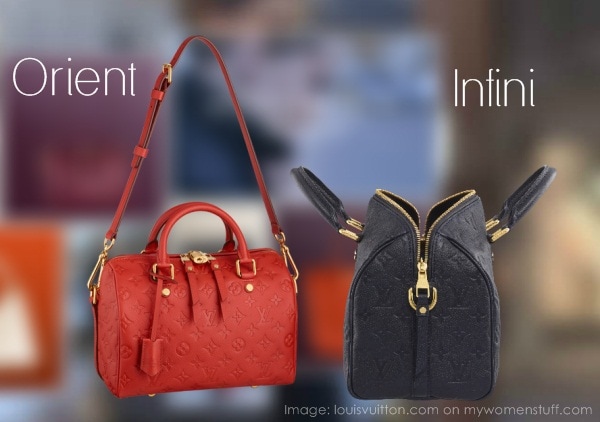 I must say that I was prepared not to like the bag with the strap on. It looks like there's too much going on doesn't it? Yet, when I slung it on my shoulder, it just looked right. The strap is adjustable and I could have it hit against my hip, where I can also wear it cross body, or even longer.
The 25 size looked perfect for my height and size. I had to agree with Syed that if it was a 30, it might actually be a bit too large for me. Also, you don't really want to stuff too much into the bag, because it can get heavy and that plays merry hell with your shoulder and arms.
2 more improvements to the Speedy that I liked were – feet, and the zipper. Feet, being self-explanatory. The new zipper, instead of opening straight across as in the Epi and Canvas versions, now open partway down the sides. What this does, is make the opening larger, so its easier to access the inside of the bag! Why didn't they do this earlier?!
Personally, I have my eye set on Orient, a lovely bright burnt orange. Other colours are Infini (a dark blue that looks black), Aube (a dark purple), Aurore (a dark, almost fuchsia pink) and Terre (dark chocolate brown).
Does anyone own anything in Empreinte? Is it as hard wearing as they say it is?
I like the look of the leather. I was all about Epi before, but I'm happy to have Empreinte bridge the gap between Epi and Mahina. Also it looks better made. Other than the Artsy, I wasn't too keen on the other designs. So I guess I'll have to sleep on it 😉
Paris B