Dior is making big splashes this year. Is it any coincidence that its the Olympics year and Dior went for Gold? 😉
For the Autumn/Fall 2012 collection, Dior decided to look to the jungle for inspiration. Its not as if it popped out of the blue. Mr. Christian Dior in 1947 had unveiled his couture collection featuring the Jungle panther print which was quickly adopted by his muse Mitzah Bricard. Does that name sound familiar? It should. About a year ago, Dior came out with a capsule Mitzah collection that featured a large animal print eyeshadow palette.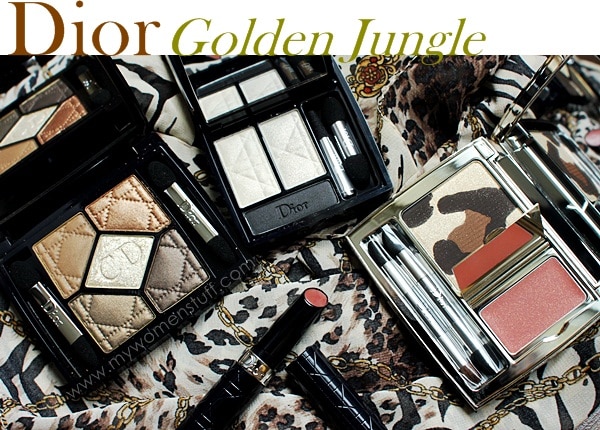 This year, the print has been adopted in the Golden Jungle limited edition star palette for eyes and lips. If you missed out on the Mitzah palette the first time around, you're in luck! 😀 The Golden Jungle collection features a slew of products that have a brown/khaki theme. Truth to tell, I did not see much of the "gold" in the Golden Jungle but I did get a lot of jungley vibes <- "jungley" LOL!
I usually do an item a time from the collections but I realise that I tend to get a bit tardy and I don't really want to flood the blog with just 1 brand, so when I get round to actually reviewing it, its gone from the shelves. Bad me, I know. So this time, I will give you an overview of the collection with my quick thoughts on the various products featured, and then you can tell me which you want to see first in detail and we'll take it from there. Sounds good? 🙂 Let's go.