Dior is making big splashes this year. Is it any coincidence that its the Olympics year and Dior went for Gold? 😉
For the Autumn/Fall 2012 collection, Dior decided to look to the jungle for inspiration. Its not as if it popped out of the blue. Mr. Christian Dior in 1947 had unveiled his couture collection featuring the Jungle panther print which was quickly adopted by his muse Mitzah Bricard. Does that name sound familiar? It should. About a year ago, Dior came out with a capsule Mitzah collection that featured a large animal print eyeshadow palette.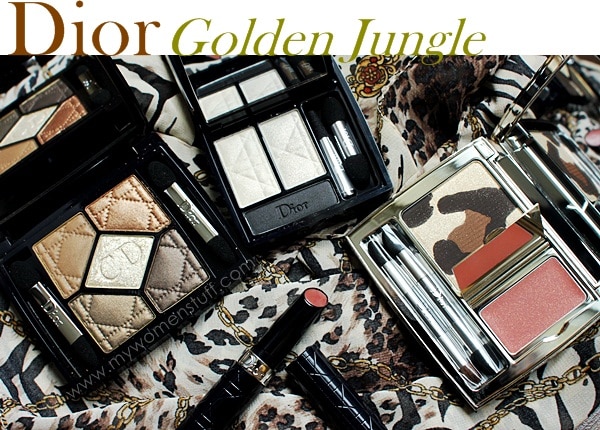 This year, the print has been adopted in the Golden Jungle limited edition star palette for eyes and lips. If you missed out on the Mitzah palette the first time around, you're in luck! 😀 The Golden Jungle collection features a slew of products that have a brown/khaki theme. Truth to tell, I did not see much of the "gold" in the Golden Jungle but I did get a lot of jungley vibes <- "jungley" LOL!
I usually do an item a time from the collections but I realise that I tend to get a bit tardy and I don't really want to flood the blog with just 1 brand, so when I get round to actually reviewing it, its gone from the shelves. Bad me, I know. So this time, I will give you an overview of the collection with my quick thoughts on the various products featured, and then you can tell me which you want to see first in detail and we'll take it from there. Sounds good? 🙂 Let's go.
Golden Jungle palette – 002 Golden Browns (RM220)
First up, the star palette Golden Jungle featured here in 002 Golden Browns. There is another shade in 001 which has khaki green shadows and a pink lip colour.
In a solid metal case reminiscent of the cases we've been seeing in Dior's limited edition offerings and in a brilliant move of separating their powder and cream products (similar to that we've seen in the Minaudiere) Dior gives us a trio of powder eyeshadow colours in complementing shades of cream shimmer, dark matte brown and a shimmer tan shade arranged to bring to mind leopard print. The complementing lip colour is a sheer golden coral.
Golden Browns 002 Swatches L-R: Shimmer cream, Matte dark brown, Shimmer tan, Coral lip colour
Quick Thoughts

The shadow colours are actually quite hard to pick up without them blending into each other. Granted, I used my finger and it would be easier to control with a brush or sponge applicator but it still bugged me. Also, the dark brown was quite hard to pick up although the 2 shimmer shades were easier and applied smoother and more easily. The lipgloss is very sheer but the shade complements the shadows very well. I would personally have preferred if Dior had included a coral toned blush instead of a lip colour. I somehow feel it would go better. I think this palette is more of a novelty than a practicality.
Dior 5 Couleurs Eyeshadow Palette – Golden Savannah #774 (RM200)
Golden Savannah is a palette of golden browns and khaki that if I'm to be honest, I thought looked a little dull. However, swatching it made me change my mind 180°.
This my friends, is a beautiful palette. The quality of each shadow is excellent with a very lovely satin texture and subtle traces of golden sheen in each colour. Each colour swatches very pigmented with good strong colour that makes it such a breeze to use. The only sparkly colour is the one in the middle for accent and highlight but even that too has a lovely texture.
Golden Savannah Swatches L-R: (middle) Sparkly pale gold, (top left) satin tan, (top right) shimmer golden brown, (bottom right) shimmer golden cool toned dark brown, (bottom left) shimmer golden khaki
Each colour was swatched just once and I like how the colours are a mixture of cool and warm tones. Imminently a very wearable palette and one I am very drawn to. Did you see all that subtle golden shimmer in the swatches? Beautiful!
Quick Thoughts

The quality of the shadows are lovely – smooth and pigmented. The golden tones bring out the texture of the shadows and the colours are wearable for most. This one is definitely worth taking a look at.
Dior 3 Couleurs Glow palette – Ivory Glow #551 (RM149)
The 3 Couleurs palettes puzzle me a little. I really should get around telling you about them but I could never quite put my finger on whether I really liked it or not. Very unnerving to be uncertain 😛
In the Golden Jungle collection, there are 2 colours for the 3 Couleurs Glow palettes – Ivory Glow shown here and Nude Glow #651. Nude Glow has 2 warm peachy shades while Ivory Glow has 2 very pale cream shades and a dark liner.
Ivory Glow swatches L-R: Satin shimmer cream, Sparkly cream, Matte black, Copper Brown Serum de Rouge
The 3 Couleurs shadow palettes usually feature a matte dark liner, a sparkly highlight shade and a satin lid colour. Ivory Glow as the name implies has ivory shades. The matte black is very disappointing when swatched. It was not smooth on skin at all. But I will try to take it for a spin on the eyes and see how best to wear this. It intrigues me!
Quick Thoughts

None LOL! I can't be sure what to make out of Ivory Glow except that I'm not sure how to wear pure cream colours on lids and the matte black swatched a bit disappointing. I will try this out properly in due course.
Dior Serum de Rouge – Copper Brown Serum #610 (RM113)
Ahh… one of my favourite Dior lipsticks makes a come back! My mom loves this line too because she says it makes her lips feel so comfortable and lovely and glowy. She's already helped herself to 2 of mine 😛 I use Serum de Rouge on days when my lips feel dry or flakey. Its absolutely the best!
But I digress 🙂 Copper Serum looks like a brown in the tube with golden shimmer shot through. In fact my initial thought was that I wasn't sure how to wear brown lipstick!
But as you can see in the swatch above, it applies with a coral red hue that I can just imagine I would really like on my lips. Truly, a deceptive colour that happily was a good surprise.
Quick Thoughts

Copper Serum looks a dull brown in the tube but applies on skin a lovely coral red. I have always loved Serum de Rouge lipsticks so I naturally have nothing bad to say about the texture. Its smooth, hydrating and while they don't come in very exciting colours, I love the texture.
Bonus! Dior Rouge Duo Vernis Croco (RM95)
I didn't have the crackle polish duo and honestly, I was very over the whole crackle polish trend. Early reports that Dior was making a crackle polish really threw me for a loop. I mean, isn't it over already?!
While I'm not into the whole crackle polish thing, I will have to admit that the Dior one which cracks to resemble crocodile skin, is quite interesting.
Nails courtesy of Prettybeautiful.net
I met Xin recently and saw her sporting the Dior Vernis Croco so I just had to take a picture of it. I didn't quite think crocodile skin actually. I thought of tortoiseshell LOL! Whilst it does look much better than all the crackle polish we've seen before, I'm still not all that into it. I do think however, if one were to do a croco accent nail it would be quite interesting, don't you think? 😉
Other items in the collection include 2 Rouge Dior lipsticks and a 5 Couleur Eyeshadow in Khaki Design. The Design eyeshadow palettes contain 1 cream liner and the texture of the shadows are a little different from the quilted version. From the permanent collection, I own Green Design which I really like and been meaning to write about for a while but keep forgetting 😛 So I'll get down to it some time.
Does anything grab you from the Dior Golden Jungle collection? Have you already checked out any of them or do you have in mind a specific item to look into? Do you have a request for a detailed review of any item featured?
Just based on this overview, I'd say take a look at Golden Savannah and the Copper Serum lipstick. Check out the Croco polish duo if you like it (At RM95 for the duo its cheaper than buying 2 Dior polishes that retail at RM72 each) The Golden Jungle palette can be skipped unless you are a collector. Just my 2 cents 🙂 Holler at me to let me know if you want a detailed review of any item and I'll oblige as best I can 🙂
Paris B
Dior Golden Jungle will be available at all Dior counters starting August 2012. Prices per product are as listed above