A couple of weeks back, I learned a 5 minute smokey eye or defined eye makeup look that I was just bursting to share with all of you. We all know how hard it is to ensure a nice defined eye, especially when we sometimes don't have much time to get ready. Or, maybe you want to convert your eye makeup from day to night, or just tone it down and wear it in the day.
This is a very simple look you can do with any colour combination, and all you need is 1 finger (or optional brush), 1 fluffy blending brush, 3 eyeshadow colours, eyeliner and 5 minutes 🙂 I've got a lovely pictorial tutorial right here.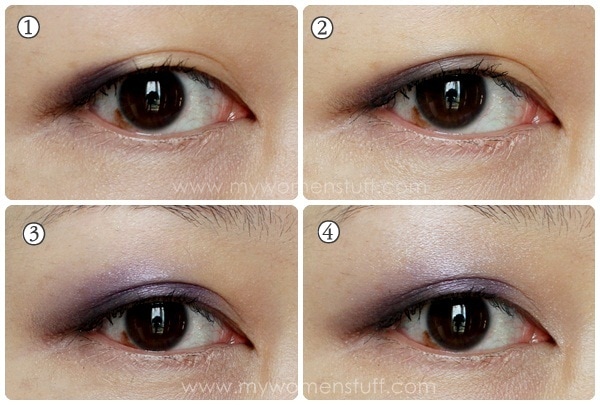 Pick a dark eyeshadow colour. Using your 4th finger (or a brush), pick up a dab of colour and dab it on the outer lid, just above the lash line. Don't worry if its not smooth.
Then, lightly blend the colour inwards so there are no harsh edges.
Take the medium or lid colour with the blending brush, and in a gentle side to side motion, blend it a little way at the eye socket area. Blend the two colours together.
Take a light highlight shade, gently blend the inner portion of the lid and ensure there are no harsh edges. You are practically done at this point!
Take an eyeliner (gel, liquid or pencil) and draw in your eyeliner, top and bottom. For the bottom, I prefer to take it just part way for the day or even evening. Its less harsh this way for my eyes.
Take a dense eyeliner brush or the sharp tipped sponge applicator, apply some powder shadow over the liner to help it set. Use a deep shade at the outer edge and a light shade on the inner rim to open up the eyes.
And you are done! It is incredibly quick although it looks complicated. Give it a go and see 😀
You can pair this smokey eye look with either a nude or light coloured lipstick or a bright red lip. I realised that nude lips tend to wash me out so I prefer to go strong on the lips. At the counter, they paired me with a bright fuchsia lip that I loved! I know this breaks all the rules about focusing on just one part of the face, but heck! Rules are meant to be broken! 😀
Blush: Benefit Hervana; Lips on Left: Dior Angelique Pink Right: Le Metier de Beaute Framboise
If you still aren't sure how to achieve the effect you want, or you want something more natural, you can head down to any Estee Lauder counter, and request for the mini makeover. Its complimentary and part of their Signature Service that anyone can ask for, whether or not they buy anything. You get to try colours, learn your foundation shades and if the products intrigue you enough, pick them up 🙂 But the key thing is, its complimentary to start.
Does this little smokey eye tutorial help you? Are you wont to go with the regular black smokey eye or are you more adventurous? I used purple because its different and because I just discovered this Estee Lauder Surreal VioletVelvet Orchids eyeshadow palette and am thrilled that I can wear purple on my eyes without looking like someone punched me! 😀
Paris B