Revlon launched a couple of new items a while ago that garnered some interest. The first was a mousse style foundation and the second was a primer. I was more interested in the primer than I was in the foundation, primarily because I wasn't too taken in by the concept of the latter. Still, I will share my thoughts on it later.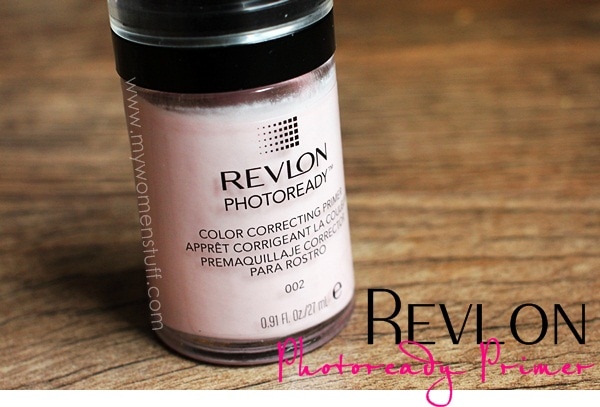 I thought I'd tell you first about the primer because a) I like it and b) I realised I'd previewed it about 2 months ago without follow up 😛 The Revlon Photoready Primers come in 2 types – 001 Photoready Perfecting Primer and 002 Photoready Color Correcting Primer. I'll be sharing my thoughts on the Revlon Photoready Color Correcting Primer in 002 because its simple – its the one I have 😀 This one is a pale lilac pink in the bottle and is meant to act both as a primer, filling up lines and pores to give you a smooth finish for your foundation to go on; and to provide a tint of colour to correct and brighten uneven skintone.
Whilst I think this primer does an ace job at acting as a primer, I am a little less impressed by its colour correcting claims.
The product comes in a lovely smallish glass jar with a pump mechanism, the same size and design as the Photoready liquid foundation. Operation is straight forward and simple, and the pump dispenses a good amount. I do find I need at least 2 pumps to cover my whole face (If I want to) although a thin layer of product is usually more than sufficient to touch up parts of your face like your nose and cheeks where pores are usually more visible.
I do find however that sometimes, if you don't use it for a while, the remnants in the pump head harden so it gets hard to pump out the product when you need it. When that happens, it sort of explodes and a hard bit of product is expelled. Its the primary drawback to these sort of packaging.
I must say up front that I don't use primers a lot. I don't have oily skin and I'm not very crazy about having my face look perfect all day long or to look perfect and poreless. I have tried a few but in the main, primers are found in the domain of higher end department store cosmetics brands with the most famous being Smashbox Photo Finish primer and the Laura Mercier primer.
So, I'm quite impressed with Revlon for coming up with one that actually works very well, and making it relatively affordable for the masses.
The product as you can see in the swatch below is a little thick but also runny and spreads very easily. There is a bit of a hardened bit because of the pump problem as I pointed out earlier.
You can probably see (if you come closer) that the part on the right, where I'd applied a thin layer of the Photoready Primer looks smoother. The lines on my hands are visibly softened and there is a little brightening effect.
I must say that the reason this primer appeals to me more than many primers I've tried is because it does not have that dry powdery silicone feel to it. Yes, it contains silicone (which primer doesn't?) but it does not dry down to that funny texture that I dislike. It feels comfortable on my skin (I don't even notice it) and my face does not feel like its suffocating.
Foundation, both liquid and powder, that are applied over it stays on longer as is true of most primers and apply more smoothly leaving a smoother more flawless finish. My blush lasts longer too! I don't have oily skin but I do sometimes get a shiny nose on a hot day, and when I use this, I don't get that. So as a primer I'd say it ticks all the right boxes and with the relatively affordable price tag, we're onto a winner!
The colour correcting properties aren't very obvious to me. On the back of my hand you can see some brightening. On my face, its little to no effect so I'm not terribly taken by the colour correcting part of things. I don't use this very often, but when I want a primer, I reach for this one because it just works 🙂
In a nutshell

The Revlon Photoready Primers come in 2 variations 001 Perfecting Primer and 002 Color Correcting Primer. The former is more of a straightforward primer while the latter has some color correcting properties to brighten skin especially if you have sallow skin tones. As a primer, I think it ticks all the right boxes. Its light on my skin, it does not feel heavy nor does it clog my pores, it helps my foundations last longer and keeps my skin from oiling up, and it provides a good base for a smooth, flawless finish. The colour correcting properties aren't very obvious on my skin so I'm not too impressed by it. But as an affordable primer, it is close to perfect.

Pros: Light texture, Easy to apply, Provides a smooth flawless base for makeup, No dry silicone feel, Helps my foundation, powder and blush stay on longer

Cons: I wasn't too impressed with the colour correcting claims, The pump can sometimes get clogged if you don't use it for a while

Who will like this: Anyone who wants to try a makeup primer on a budget, Anyone who wants an affordable face primer that does a pretty good job and has some colour correcting properties
Here is the ingredient list. Those who are sensitive to dimethicone or silicone had better stay clear but it is paraben free.
I am not sure if those who have very oily skin will find this helps their makeup stay on longer. Naturally, if you have tried it and have oily skin I'd love to hear from you! Do look out for sales on these because I think its a great pharmacy buy!
Have you tried the Revlon Photoready Primers yet? Do you like them? I don't use primers a lot, but I like these. I like how my foundation and blush stay on much longer throughout the day when I use it over primer than without but I will end with a note to make sure you clean off your makeup properly at the end of the day so your pores don't get clogged 🙂
Paris B
Revlon Photoready Primers come in 2 variants – 001 Perfecting Primer 002 Color Correcting Primer Price: RM59 (but look out for sales) Availability: Revlon counters in major pharmacies