Happy Monday Ladies! <- so oxymoronic on so many levels! 😛
I usually like to start off the week with something light and easy (like a makeup review if you have noticed) but when I rather belatedly spotted this unique collaboration between YSL and Facebook, I couldn't help it. I had to know what you thought of it!
The very limited edition YSL x Facebook Devoted to Fans palette (just 1650 units worldwide!) is a quad with colours "inspired by Facebook" and created as a tribute to their Facebook fans and a nod to taking their Facebook fans seriously. The cover has the YSL logo with the blue now commonly associated with Facebook making it no doubt what sort of "fans" they were devoted to.
The photo above is mine and that is by all accounts, the YSL Devoted to Fans eyeshadow palette. But is it really the YSL x Facebook Devoted to Fans palette? How did I manage to be one of the lucky 1650 people to own what is an iconic piece of brand history? Ahh… now that's a story! 😉
Facebook Fan Nay!
This is the stock image of the YSL Facebook Devoted to Fans palette. Its similar enough to mine isn't it?
I'm one of those anti-Facebook characters, so I'm not falling over myself to get it. I maintain my FB page for the blog but that's about it. I don't maintain a personal profile or presence on Facebook because I found it too invasive and connected me to people I'd much prefer to be disconnected from.
So for me, I think this a bit of a pathetic attempt by YSL to make use of and connect to a social media platform. The colours aren't unique (the blue isn't even that greyed blue of the Facebook logo) and whilst on its own, it might have interested me (it did!), with the Facebook tie-in, I'd run so far in the opposite direction they couldn't catch me.
What's next? MAC x Twitter? Chanel x Pinterest? bleh…
BUT as it turns out I own it, and I did not even know it! 😯
The YSL Facebook Devoted to Fans palette… or maybe not?
Now here's the thing. It looked familiar to me. So I went rifling in my stash and I produced this YSL palette. By all accounts, it is the oh so limited edition YSL Devoted to Fans palette where only 1650 palettes were sold at £39 through, you guessed it, the YSL Facebook page! The colours certainly look the same!
So, since I'm not a Facebook fan and since I only stumbled on this piece of news AFTER it went on sale and was sold out, how did I get my hands on this very limited edition palette?
The answer is simple. I didn't, and the YSL Devoted to Fans palette isn't new or specially created or all that exclusive! Its just a big marketing and promotional blitz that I'm not terribly taken nor impressed with.
This palette is in fact, the Pure Chromatics Eyeshadow palette #1. I purchased this last year off StrawberryNET.com(aff). YSL isn't available locally and I wanted to try one of the raved about Pure Chromatics Eyeshadow palettes and my choice happened to be #1.
I looked around online and saw that the YSL Devoted to Fans box looks pretty much the same as mine. There were questions as to whether the number 1 on the box was an indication that this was the first of a line of social media themed palettes. Well, I say the mystery is solved. It isn't. YSL just repackaged and rebranded their Pure Chromatics Eyeshadow Palette #1 with a new cover for the case (but not the box hence #1), and drummed up fuss and news for it by calling it a palette inspired by Facebook. I'm not terribly impressed by this to be honest and I'd feel duped if I didn't know better!
The only difference between my original YSL Pure Chromatics Eyeshadow palette #1 and the Devoted to Fans palette is the cover. Mine has the regular iconic YSL stamped cover. The Devoted to Fans palette has an embossed blue cover as you see in the stock image above. You can see more pictures of the actual YSL Devoted to Fans palette at BeautyJunkieLondon which is where I made the connection to the Pure Chromatics #1 palette that I own.
Here are the swatches of the Pure Chromatics Eyeshadow #1 palette which can be used wet or dry. They are swatched dry in this photo, 2 layers.
I found the colours a bit too shimmery and I wasn't terribly impressed which is why I left this on the backburner and didn't review it. I will do, if anyone's curious. Just drop a note in the comment box and I'll get to it 🙂
So, there you have it. If I'm right, the much anticipated YSL x Facebook Devoted to Fans eyeshadow palette isn't new nor specially created nor even inspired by Facebook. They just took their old palette that so happened to contain a blue shade, changed the name, changed the cover, made it limited edition, upped the sexy factor by saying its Facebook inspired, got lots of social media coverage out of it and made it a collectible.
Excellent marketing strategy YSL, but ultimately, I feel its all a bit sneaky. Its like that whole YSL to SLP news all over again – lots of noise but where's the real substance? Then again, I could be wrong, who knows. I haven't seen this connection made yet by anyone and YSL seems to be sticking to their story that it was created for their Facebook fans so who am I to say otherwise.
So if you wanted to but didn't get the YSL x Facebook palette, don't fret. Just go to your YSL counter and pick up the Pure Chromatics Eyeshadow Palette in No. 1. Based on sight and online photos, I'd safely say its the same thing and it isn't limited edition (I'm not sure if its discontinued).
Edit: I noticed on the YSL Facebook page that they say that they love their fans and that this palette is a "Declaration of love" for their Facebook fans and their first entirely digital product for their facebook fans. Here's the product description available after you "Like" the page. If I were truly a fan I'd be quite disappointed to know that the content's aren't original and the only original bit I'm getting is the odd looking cover.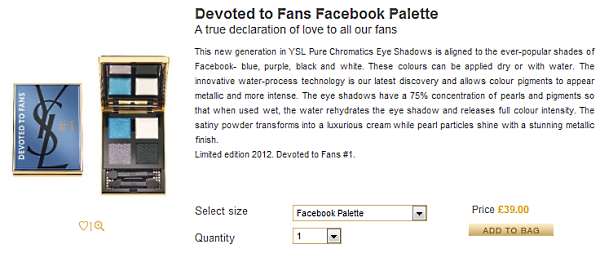 What say you: YSL x Facebook palette. Yay or Nay? Would it interest you if it wasn't linked to Facebook? What do you think of this marketing strategy in putting an existing palette forward as new and limited edition without saying so? I naturally was interested in the original palette for the colours which is why I bought it, not because of the Facebook tie in. If it was the latter, I'd be running a mile in the other direction. I of course, stand to be corrected if these aren't the same palettes but the similarities are too close to argue otherwise.
Detective Paris B, over & out!
The YSL x Facebook palette went on sale (where else but on Facebook) on July 19, 2012 and was limited to 1,650 units worldwide at a price of £39. The Pure Chromatics Eyeshadow Palette in #1 is available at YSL counters or for those of us without YSL counters on StrawberryNET.com(aff) where I got mine last year.