My favourite hair treatment oil just got a makeover! I might have mentioned the Kerastase Elixir Ultime hair treatment oil before this, and its one I've been using quite regularly whenever my hair is feeling dry and frizzy. In fact, I had run out of hair conditioner for a couple of weeks now, and was only using shampoo on my hair. I know, bad girl!
Naturally, a few washes later, it was Hello straw hair!
Incidentally, I'd forgotten about this hair oil. I don't take very good care of my hair. Again, bad me! But my eyes fell on a bottle of this which had fallen behind my dresser. I was doing a bit of clearing out last weekend and its a good thing the bottle is a plastic one! I applied the oil to my hair et voila! I had hair that moved properly again, and did not stick out in 20 different directions!
The Kerastase Elixir Ultime beautifying hair oil is a combination of various oils including Argan Oil, Maize Oil, Pracaxi Oil and Camellia Oil – and as I reviewed once before, is very light in texture and absorbs nicely into hair without weighing it down, nor making it feel oily. Do you notice the trend here? Body oils, shower oils, face oils and now hair oils! LOL! No, this wasn't done on purpose. I didn't even notice the trend till now 😀
The new limited edition bottle is designed by French jewellery designer, Yaz Bukey. She's apparently descended from the Ottoman royalty and her family once ruled Egypt. I just had images of pyramids and pharoahs flash through my mind! 😛
I'd never heard of her, so I went to good ol' trusty Google and found that she has some quirky avant garde jewellery designs. In designing the limited edition packaging for the Elixir Ultime bottle, Yaz drew on her Turkish heritage. The design is inspired by the Moucharabieh, which is something inbetween wooden windows or doors and a screen.
It gives a bit of a mysterious, oriental look to the bottle don't you think? The coconut smell of the oil helps with the imagery too.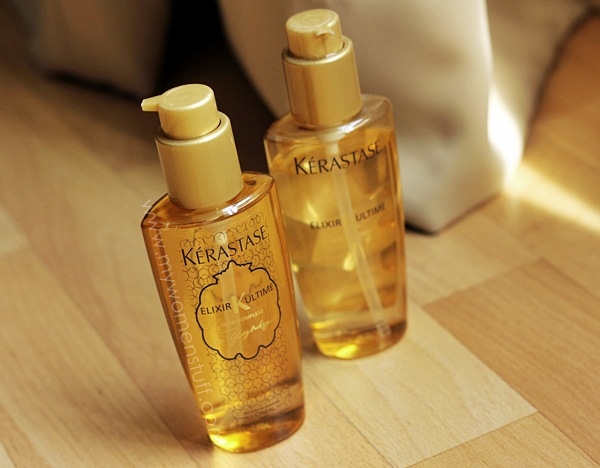 The regular bottle looks almost utilitarian next to this one. Best of all, the price remains the same for the limited edition bottle so if you have been toying with the idea of indulging in a beautifying oil for your hair, and have had your eye on the Kerastase Elixir Ultime, I think now would be a good time to pick it up. Apparently there are only 2500 bottles available worldwide so erm… don't miss out yes? 🙂
Have you tried the Kerastase Elixir Ultime hair oil? Are you a fan? I am, and I have also shared some thoughts about this hair oil vs another more popular argan oil treatment and a budget buy. Check that out! 😉
Paris B
The Kerastase Elixir Ultime retails for RM138/125ml at Kerastase approved hair salons nationwide. Call 03-7727 1231 for your nearest salon.