I have this little list of must-haves from the pharmacy or drugstores that I turn to whenever I suddenly find myself needing a cosmetic in a hurry. Thus far, its only happened once but who's to say that it won't happen again, right? 😉 This little list of mine consists of makeup brands I will turn to for no-fail or at least, least fail makeup items, and I turn to Maybelline. So far, Maybelline lipsticks have not failed me. They are usually inexpensive, light on the lips and come in different textures to suit different preferences.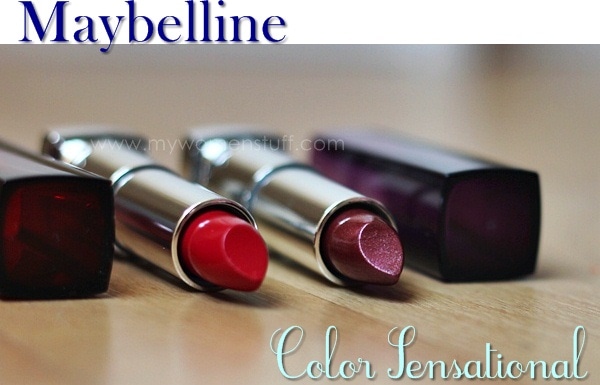 The newest additions to Maybelline's lipstick range is the Color Sensational lipstick. I recall there being a range of Color Sensational lipstick from a year or two ago so I think this is an update/upgrade from that one. This range of lipsticks are opaque, pigmented and eye catching. At least the 2 colours I have – 625 Are you Red-dy and 415 Plum-tastic. Check out the swatches 😉
The previous packaging of Maybelline Color Sensational lipsticks were round and if truth be told, looked quite cheap. The packaging has been updated so they now come in a metal tube with a translucent square cover that matches the colour of the lipstick inside. Now, where have we seen it before? 😉
I actually find that the plastic of the cover albeit looking elegant, feels brittle, hard and I'm afraid to say, cheap. The metal part is the same. It feels light and cheap without the heft that comes with most of the lipsticks I am used to (albeit those that cost substantially more). So, it always surprises me when I pick this lipstick up, because I use unnecessary force and that can overbalance me if I'm not careful. But at the small price tag these lipsticks come in, I forgive them this packaging oversight.
The other packaging point to note is that the lipsticks come in a traditional teardrop style pointed tip. I've been so used to the blunted tips of the new crop of lipsticks to hit the market recently, that using a sharp tip lipstick took a bit of getting used to.
I must say however, that due to the strong colour of these 2 that I have, the sharp tip is quite useful for getting a sharper outline of the lips. The blunted tips are more suited to sheerer balmy textured lipsticks. And when I say pigmented, I mean it.
Maybelline Color Sensational Lipstick Swatches Left: 415 Plum-tastic Right: 625 Are You Red-dy
These swatches were just with 1 light swipe of the lipstick down the back of my hand. They were swatched new from the tube and you can see that the colour is very strong.
415 Plum-tastic: A frosty deep plum shade that applies a deep burgundy on my lips with obvious shine and frost
625 Are you Red-dy: A bright crimson red with a slightly warm undertone that applies creamy with shine but no shimmer
And here we have, the swatches on lips because really, lipstick has to be applied on lips not on the back of your hand for best effect 😛
415 Plum-tastic
See what I mean about it looking frosty? It has this metallic shine to it that reminds me too much of the 80's or maybe 90s – old brains lose track of these things – when metallic lips were all the rage. On me, the metallic shine makes my lips look dry and emphasises lines. I love the colour, I don't like the texture although its smooth and pigmented and all that.
625 Are you Red-dy
This one is more like it! I swatched Are you Red-dy after Plum-tastic and the difference in texture is marked. This one applies creamy and smooth and pigmented. It even has a lovely glossy shine which is really something. What you see is just 1 layer of colour and it is pretty much as true to colour as I can get it. As a red lipstick, I think this is lovely. Its bright (oh yes it is!), its pigmented and it, you might be surprised to know, lasts! For the price tag, if you still haven't found your red, look into this one 🙂
In a nutshell

Maybelline Color Sensational Lipsticks now come in new square packaging with a translucent cover that mirrors the colour of the lipstick. The texture of the 2 I tried are slightly different. Plum-tastic has a metallic sheen which I did not find flattering, whilst Are you Red-dy had a creamier, smoother and glossier finish. Both were light on lips and not drying at all which I appreciated. Both colours are pigmented and apply very smoothly and are worth taking a look simply because the quality belies the small price tag.

Pros: Affordable, Creamy texture and pigmented colour, Light on lips, Not drying

Cons: The metallic sheen in Plum-tastic is not very flattering, The packaging is a bit brittle and flimsy
For the sake of completeness, here's how both lipsticks look in a full face shot.
I'd wear Are you Red-dy in the day because it really brightens up the face, and Plum-tastic looks more suited for an evening look. I did wear Plum-tastic in the day though and paired it with a slightly purplish eye (Giorgio Armani Eyes to Kill #3 Purpura) so on an overall basis it didn't look too gothic or too deep.
UPDATE: I took a spy shot of the Maybelline display so you have an idea of what other colours there are 😉
Reckon you'd pick up either of these 2 colours featured here? Or have you tried any other of the 16 shades available in this Maybelline Color Sensational range and would like to share a recommendation? Do you have a no-fail drugstore/pharmacy brand that you go to in a makeup emergency? Maybelline gets my vote for lipstick and mascara (I love the Falsies one) because they are affordable and do the job very well. Yours? 😀
Paris B
Maybelline Color Sensational Lipsticks come in 16 shades locally Price: 29.90 Availability: All Maybelline display counters