Have any of you observant ladies seen this range at the pharmacies recently? I noticed them about a month ago – the red packaging is very distinctive and reminded me of another brand, also targeted at anti-aging 😉
This is the latest range in the Neutrogena line up – Neutrogena Ageless. It is an anti-wrinkle and firming range of skincare so you know what that means. If you have other problems like oily skin or acne prone skin then anti-aging would likely be the least of your concerns. But if you are starting to show signs of aging (whatever your age) like fine lines, sagging or dull skin, then this is targeted at you.
This range claims to fight aging layer by layer, from inside out. It targets the rebuilding and repair of skin elasticity with dill and blackberry extract, provides hydration with Southernwood extract and smooths and lifts the top layer of the skin with a vitamin B3.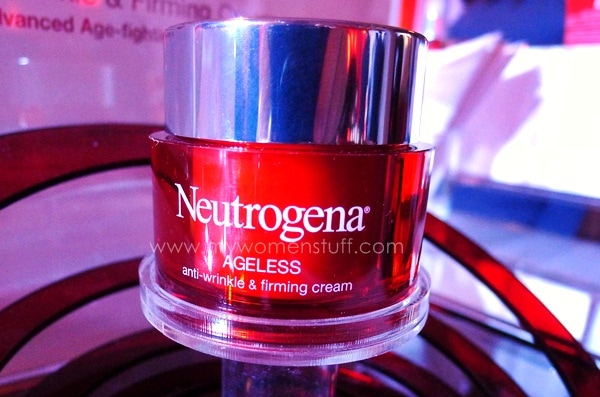 There is a full range of products but the star product is the Neutrogena Ageless Anti-Wrinkle & Firming Cream. It feels quite lovely and lux. The texture is soft and it glides on the skin quite comfortably. There is a fragrance which isn't unpleasant.
As with all anti-aging products, my personal philosophy is that you really don't need an anti-aging skincare routine under 30 unless you are already exhibiting signs of aging, which manifests quite obviously in fine lines showing up on the skin. Of course if you subscribe to the "prevention is better than cure" school of thought then it should start a little earlier 🙂
Have you spotted this in the pharmacies or perhaps you have already given them a go? Do you like it? I haven't tried it but I've got a friend testing out some products in the range so I'll bring you their thoughts in time to come.
Paris B
Neutrogena Ageless Anti-Wrinkle & Firming Cleanser (RM34.90/100ml), Tonic Water Lotion (RM34.90/150ml), Essence (RM89.90/30ml), Cream (RM69.90/50ml), Lotion SPF20 PA++ (RM69.90/40ml), Eye Cream (RM69.90/15g) The range is available at all major pharmacies and supermarkets.