Here is a wearable red lipstick for anyone. Well, almost anyone 🙂 I seem to be on a mission to make everyone wear a red lip alongside me… and why not eh? Enough of all the nude lips – let lips be seen! 😛 Looks like a one woman crusade. But nevermind. Baby steps 😉
NARS Gipsy is under the Nars Sheer Lipstick formula, which truth to tell is not sheer at all. We don't get NARS makeup here in Malaysia yet (at time of writing) so I had this custom purchased from the USA through a friend. The colour is pretty much as you see in the tube. A warmed browned red which is very wearable for the daytime.
NARS describes this colour as "Berry red". I'm not sure what they were on at the time they were writing descriptions but there is no hint of berry in this lipstick at all. Its a red with brown tones and is, I believe flattering on most skintones, light and dark.
Packaging wise, the tube is tiny. It comes in a little square tube and it has that slight rubbery feel of all NARS packaging. Not quite as rubbery as the blushes though. I hope this one is not prone to melting.
I had a NARS lipstick many years ago in a colour I forget, but I hated the formula. I found it drying. I'm not sure what made me try this again. Perhaps its because this is described as "Sheer" and from experience, anything "Sheer" tends to be less drying.
In actual fact, it isn't all that sheer. Well, as compared to all the really really sheer lipsticks we've been seeing lately from brands like Chanel, Dior and Guerlain. This isn't in that category at all. I'd never call this one a "lipbalm texture" because it applies and feels just like a lipstick.
NARS Gipsy Lipstick swatch – 2 layers
The colour is quite true to the tube as you will see above. Swiped from a fresh tube, it does not swatch very evenly. But once you've started to use it, it is much easier to apply and it shows up better too.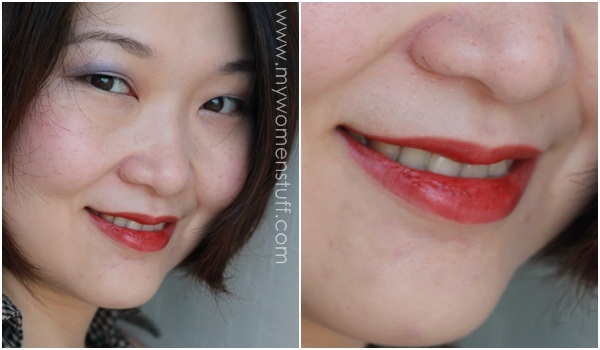 Also featuring: Tsuya Tsuya BB Cream Light-Fair, Lavshuca loose powder, Canmake Cheek and Cheek Blush 02, Urban Decay 15th Anniversary Palette – Omen, Evidence, Midnight 15 on eyes (This is the full face look for the eyes in the Urban Decay post)
Apologies for the dry lips. It does not look as bad in real life 😛 But colour wise, its pretty much what you see. A red lip that does not overwhelm nor does it fight for attention with the rest of your makeup. It is a standby sort of red lipstick. Its not super glamourous, but neither is it dull. Its a good colour to perk up the complexion and I did not find it very drying on my lips.
Lasts me at least 4 hours with water and coffee and if I did not wipe it off after lunch, I'd probably get another hour or two of wear. I'm glad I revisited NARS lipsticks and I'm glad I picked Gipsy 🙂 I also picked Manhunt which is a serious RED so yeah… 😀
In a nutshell
A smooth textured pigmented lipstick that applies with a satin texture. It is not glossy nor shimmery at all. The colour on the skin is quite true to what you get in the tube. The tube is small and compact, and the lipstick applies quite easily without tugging. Gipsy is a NARS Sheer Lipstick formula but can accentuate dry lips so do exfoliate before using, or apply a lipbalm if you feel it helps.
Pros: Pigmented colour, Smooth and does not tug on the lips, Compact packaging, Gipsy is a well rounded colour
Cons: Formula can accentuate lines and flaky skin on lips, Unavailable in Malaysia at time of writing
What I think I like most about Gipsy is that it is a true red. There are no discernible orange tones in there as in many warm toned red lipsticks, and neither is there a noticeable blue or cool tone. I find that browned reds are very flattering on many people, even if they may look a little dark initially, but these colours tend to suit a wider variety of skintones.
Another nice thing about this lipstick is that I noticed it wears quite evenly. So if I chose not to wipe off my lipstick, I could blot and then swipe on a gloss or lipbalm to get a sheer hint of colour on the lips that is just as nice as is a full coloured lip. Either way, I believe you can get a lot of wear out of this, and I do think its worth giving a go if you plan to pick up a NARS lipstick 🙂
Have you tried a NARS lipstick? Do you have a favourite colour if you have? Or do you think you'd wear a shade like this one?
Paris B
What is the 30 Days of Lip Swatches project? I will be showcasing and reviewing 30 lipsticks or lip glosses in the coming days. Lip products was chosen by popular vote from the readers. You may find all 30 days of lip swatches or follow it by clicking on the Lips category.
Previously: Day 28 of 30: Estee Lauder Pure Color Lipstick in Fig