So I've been on a bag ban since last year. Naturally, its failed. Ok, failed twice over.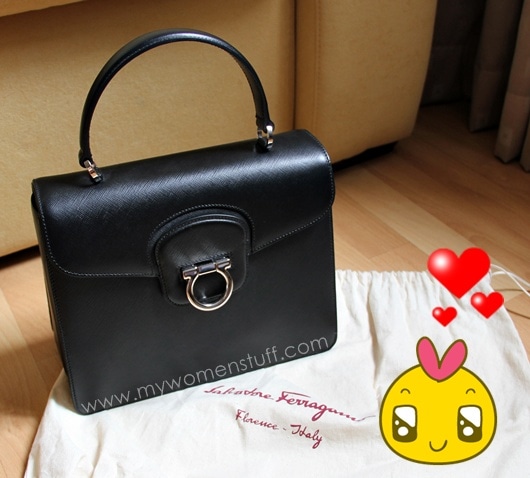 Thanks to the Ferragamo Kelly lookalike top handle classic bag/satchel/whathaveyou that followed me home from Singapore where I went to check out the annual Great Singapore Sale. My only purchase worth mentioning from my jaunt.
I believe it might be called the Ferragamo Katia satchel. Its saffiano calf leather, with a nice boxy design and a separate detachable strap so you can carry it on your shoulder. Its an unfussy classic design and although a little smaller than I'm used to, can fit quite a lot to my surprise. No names, no logos bar the clasp which you get or you don't, and quiet elegance – just how I like my bags these days 🙂
I picked it up on sale (naturally, and so is probably an older design that may not be available anymore) and you might be interested to know that its also available at the Ferragamo boutique at KLCC and also on sale – 40% off and comes in 3 colours – black, blue and white. After exchange rate conversions etc, it works out a wee bit cheaper here than in Singapore but I had some additional discounts that made it worth my while 🙂 Incidentally, Ferragamo at Paragon and Ion had different sale prices – I got mine from Paragon where it was cheaper and because the sales assistant there was nice to me despite my shabby tourist outfit (ask for Jarrick) and made the extra effort to get me a new piece sent over from the Ion store. I have absolutely no idea why the prices were different in both stores. And don't go to Ferragamo at DFS Galleria @ Scotts. They were abysmally rude, selection was poor and I was roundly ignored.
I can see myself carrying this till I'm 80 – can you? 😉
Paris B
p/s Its pricey-ish, so don't ask the cost – you could probably work it out and yes its much cheaper than the Hermes Kelly and just as cute.