Oh Hello! I just found another budget-ish sort of neutral UD Naked palette style eyeshadow palette that I sort of like and have been using quite often. Its not a dupe mind, just a good alternative.
Do take a look at the Revlon CustomEyes Naturally Glamorous eyeshadow palette – a palette of browns and neutral shades that work quite well together. Texture wise, I found this palette a little better than the Smoky Sexy blue palette. It applies better and just works better overall. I should have started with this one.
Swatch-wise, I will say that it is pigmented enough but not super pigmented. But I really like it for some reason. I've already worn off the hetchmarks of the cream beige because it is such a great highlight/blending shade!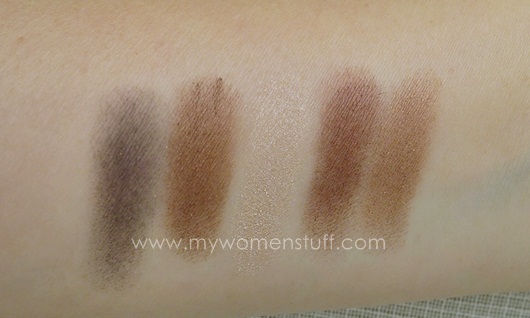 Revlon CustomEyes Naturally Glamorous eyeshadow palette swatches
Its not as powdery as the blue palette and I find these blend a lot more easily with most brushes. I don't have to use a very dense brush to get the colour to apply. Its not very soft either but the colours transfer well from palette to lid. It also travels well as its slim and compact. I've taken to toting this one around because the darkest colour works as a brow colour for me too making this a versatile palette.
Also featuring: Holika Holika Peach Girl BB Cream and cream blush, Revlon ColorBurst Lipgloss in Rose Pearl
I like using just 3 shades – the darkest for contrast, either one of the medium toned shades for lid colour and the cream for highlight and blending. The colours aren't too shimmery but have enough shimmer to keep things interesting and not too flat. Its just a very simple neutral palette that works on many levels and for many pockets and I think of all the shades available, this is the one worth taking a look at.
Pros: Colours apply and blend easily, Affordable, Good colour palette to suit most, Darkest shade can be used as liner and brow colour
Cons: Some might consider it too sheer
I'm in a strange neutral phase lately. I think it might be because having a neutral eye allows me to go full glam on the lips 😀 And interestingly, ever since I got my hands on this palette and the Essence Metallics palette, I haven't touched my Naked palette! Not once! The bulkiness of the Naked palette does get to me so in the mornings, when I'm rushed for time, I prefer to just reach for something easy to get hold of which is where this comes in 🙂
Checked out these new Revlon CustomEyes palettes yet? I think there might be some sales going on 😉
Paris B
Revlon CustomEyes Eyeshadow palettes retail at RM49 each at all Revlon counters