Kicking off our 30 days of lip swatches is the Burberry Beauty Lipstick in No. 22 Delicate Rose. This is a new shade introduced in Burberry Beauty's Spring/Summer 2011 collection and is permanent.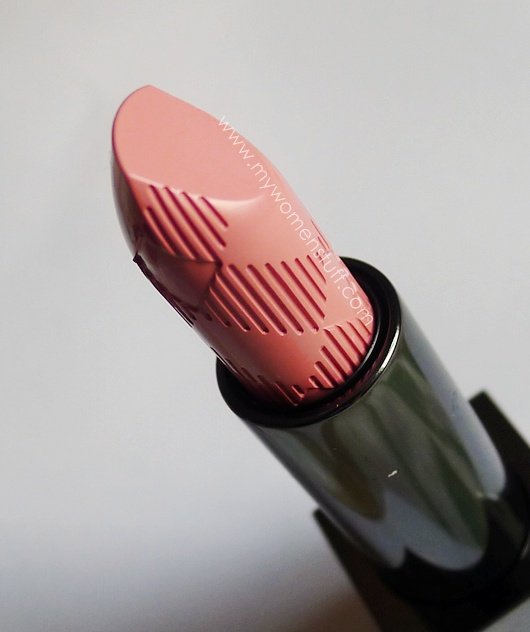 Delicate Rose is as the name implies a very very light coloured lipstick in a pale rosey tint. I hesitate to call it "nude coloured" because it isn't. It is a light pink-rose lipstick that let's be honest, not a colour I'd pick up voluntarily. But I was pleasantly surprised 🙂
Burberry Beauty Delicate Rose swatch
Here's the swatch of Delicate Rose and I've got a swatch on my lips below.
You will have noticed that on the back of my hand, it actually swatches quite rosey. Yes, it does apply more opaque than you imagine. The texture is creamy and it applies well, so I found that the colour you see in the tube is pretty much the colour you will get on your lips (not back of hand, wrist, or any other part of your body but your lips)
Also featured: Burberry Beauty Misty blush
As you can see, on my lips, the colour is light yet it is opaque and it is close to the colour in the tube. I like that it is non drying, and that it applies very easily and is an all round – My Lips But Better sort of colour.
I have nothing to fault about the packaging either. Everyone else has waxed lyrical about how pretty the checks are and how gorgeous the metallic magnetic casing is so I won't add to that. I must say however that the packaging let me down.
Not 2 days after I first started using this lipstick I thought the barrel felt a bit off. It was like, I'd twist it to twist up the lipstick, but it would not move. And then to my horror, the metallic casing slipped off the plastic barrel!
The metal tube that gives the lipstick tube its pretty shine is on the right and on the left is the "naked" tube.
Let's just say that Burberry, at RM96 a lipstick, I expected more quality control from a prestige brand through to your packaging, and mishaps like this should not happen. I haven't glued it back on but I guess I will have to at some point. For now, I just exert a little more pressure when I twist the tube but that really is the lazy way out 😛
Pros: Creamy, light texture, Nice pretty colour, Lovely packaging
Cons: Packaging flaw in my tube of lipstick, Pricey
Burberry has placed itself among the luxury brands out there and although I do think their Lip Cover lipstick is a lovely lipstick without scent and with a good opaque colour and light texture, I can't help but feel that it isn't too special. The colours available thus far are safe neutral tones that are, truth to tell, not terribly exciting.
I will definitely be watching the brand's further releases. I never thought I'd be able to do a pale flesh colour on the lips, but Burberry did it for me in Delicate Rose, so who knows what other surprises they might spring.
Have you gone to take a look at Burberry Beauty yet? Picked up anything from the lip range you'd like to share your thoughts on? 😀
Paris B
Burberry Beauty Lip Cover Lipstick retails at RM96 at the Burberry Beauty counter at Isetan KLCC
What is the 30 Days of Lip Swatches project? I will be showcasing and reviewing 30 lipsticks or lip glosses in the coming days. Lip products was chosen by popular vote from the readers. You may find all 30 days of lip swatches or follow it by clicking on the Lips category.