3 years ago, I slammed Benefit Thrrrob Face Powder as being a useless piece of sparkly pink crap. So why I ended up purchasing it some time last year is beyond me. Isn't nice to know that I'm able to admit to mistakes? 😛
I still stand by a lot of what I said previously. Benefit Thrrrob (3 r's – WHY?!) face powder is not for use all over your face unless you are thinking of joining the circus or auditioning for the Chinese opera. Its too pink and people at Benefit Cosmetics must be on something if they thought this powder could really be used all over.
However, use it just as a blush and ahh…. that's another story altogether! Having owned Dandelion, Georgia, Coralista and Sugarbomb and liking all of them (much to my surprise) I had to see just how good or bad Thrrrob was by comparison. You don't read a lot about Thrrrob online. I'm not sure why because its quite a pretty pink blush.
In pan, Thrrrob is a pale pink with purple undertones. This makes it veer towards the slightly cooler end of the spectrum but only very slightly. It is also quite pale so I do find that I have to layer it on to get it to show up on my skintone. If you are fair, I believe this blush can work for you. If you are tanned, I will suggest you skip this one.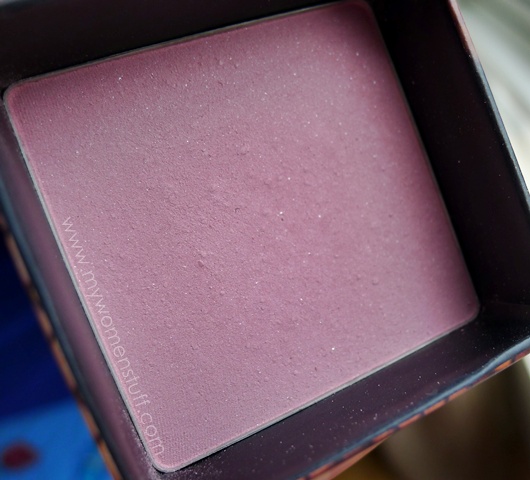 You can see all the sparkly bits in this close up picture. For some reason, when I first swatched this blush when it was first released about 3 years ago, I found it deposited shimmer on my skin. Correction. It deposited glitter. The shimmer particles were large and glittery and I did not like that.
However, although I see shimmer or glitter in the pan, when I apply mine to my skin, there is little to no shimmer at all. What I get is a wearable very pale pink blush that just gives a hint of colour to my cheeks. There is just enough colour to brighten up the complexion but not so much as to be overdone.
FOTD and Thrrrob v Dandelion Swatch comparison
In this picture, I've actually piled on the blush just so it'd show in a photo. Otherwise, it was hardly showing up at all. In person, I use about 3 layers to get a pretty flush of colour, or 2 with a dense brush.
I've shown you 2 side by side swatches of Thrrrob and Dandelion, the other pink blush in the Benefit stable. Can you see it? You might have to squint or view it from afar with just one eye, while standing on one leg. They are both very light, very sheer blushes. However, you might just be able to make out from the two swatches that Dandelion has a warmer tone while Thrrrob is cooler. If you have a neutral tone (not noticeably cool or warm either way like I am) you should be able to handle both colours quite well.
Pros:
Light sheer colour can be layered, Brush included is quite useful
Cons: Only suited for fair skintones, Light colour tends to fade quite quickly for me
I honestly thought I wouldn't like Thrrrob. It looks so blah in the pan and it is very sheer. But I surprised myself at how often I was using it in the mornings for a quick flush of colour that was not stark on the skin and just made me look bright and chirpy. However, I do find that due to the light colour and the sheerness, it does fade more quickly on me than the other colors I have so I don't have much colour left by day's end.
Have you tried Thrrrob? Or have you passed it by like I have all this while? Benefit says it is a "turned on" face powder and they have incorporated the naughty innuendo into the cover that looks like a lace up corset. It would be nice to think it does y'know do what it says, wouldn't it? 😉
Paris B
Benefit Thrrob Face Powder blush retails at US$28 online or at about RM130 (?) at Benefit Cosmetics counters locally