The best way to test a blush or any makeup for that matter, is to only have 1 choice – the item you are testing. That way you have no choice but to make the most of it. That is what I did with Benefit Coralista blush this Chinese New Year.
Since we wear red for prosperity during the new year, I opted for Coralista to fit the bill as it is a lovely coral red blush.
My first perception of Coralista was not wrong. This is one nicely pigmented blush from Benefit, which definitely sets it apart from Dandelion and Georgia, both of which tend to be light on the pigment front. With Coralista however, tap your blush brush on the surface of the blush and be prepared to see the colour transfer immediately to your brush. It is that pigmented.
However, strangely enough, I found that although the pigment transfers well onto the brush, it goes on the skin rather sheer. So, what you get on your cheeks is a rather lighter flush of colour than what you would see from my swatch on the back of my hand. I do need to layer it on a little more than I expected for the colour to show up nicely, considering that my skin tone is rather on the lighter side.

When it does show up nicely, Coralista is a gorgeous coral-pink flush on the cheeks. Much has been made of how similar Coralista is to NARS Orgasm. I say pish! Coralista pips Orgasm for me!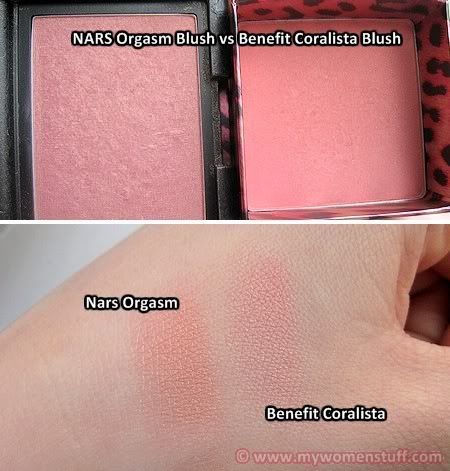 Whilst, there is a similar pink-peach mix of colours with gold shimmer, Coralista has an added twist of coral red tones with more muted shimmer. Orgasm goes on more peachy. I couldn't make any mistakes with Coralista because its sheer and you can build up the colour to the intensity you want.
Unlike Dandelion and Benefit, Coralista will show up even on those with medium-dark skin tones with a few layers. If you have light skin, use a light hand or tap off the excess of the blush before applying it to your cheeks. I can see it suiting most skin tones, warm and cool.
Bar the sweet tropical peachy smell that accompanies the blush, Coralista can do no wrong for me. I can see myself wearing it everyday (and I have for nearly a week!) for day and night. I do have to layer it on more at night to get the colour to show up stronger. I also do find that the colour fades a little throughout the day which is a bit of a pity.
I have left the box open for about half a day and this helps the sweet smell dissipate from the box. I'm not sure if its the subtle shimmer from the blush but I had people tell me that my skin looked very smooth especially on my cheeks, and I know my skin is a little dull at this point in time. So, do not underestimate the powers of blush and makeup! 🙂
Benefit's new blush gets the thumbs up from me, which is saying a lot, as I have not found any new nice blushes that catch my eye to date. The Benefit Coralista blush is available online from Benefit Cosmetics for US$28 or wait for it to arrive at our Malaysian Benefit Cosmetics counters where it will probably retail for RM129. I'd say Coralista is a blush worth waiting for.
Pros: Sheer blush with subtle shimmer, Lovely color, Pigmented

Cons: Expensive, Colour fades a little, Smell is a little too sweet

[rating:4.5/5]