If you like peachy-coral-pink toned blushes, look no further than Benefit Coralista – the new blush from Benefit Cosmetics. Mine just arrived today all the way from the US of A and I couldn't wait to tear right into it – ooh! Animal! 😛
Absolutely befitting the jungle cat look that Benefit has given to the Coralista box. I'm not quite sure why they went with a jungle theme. The name "Coralista" brings to my mind swaying palm trees on a deserted island beach and margarita in hand, definitely not a wild jungle cat.
So, here's Benefit's Coralista – a lovely peachy-coral-pink blush in a box that is really pigmented. If you found Dandelion and Georgia too sheer, be careful with Coralista. One swipe produced this swatch on the back of my hand.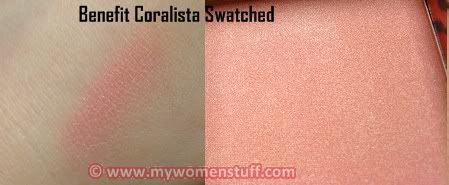 Yes, its very pigmented so I'm going to have to be careful with this one. The packaging is the same as other Benefit box blushes – I'm not too crazy about the cardboard packaging nor the fact that the blush is embedded so deep. But I'll live 😛
There is a sweetish scent accompanying the blush. I've read many reviews that liked it. I'm not too crazy about it. My office now smells of the sweet scent of Coralista – slightly peachy and sweet. I'm going to leave the box open for a while and see if the scent dissipates some.
There are also reviews that have compared Coralista with NARS Orgasm. I'll update when I go home and swatch the two, and see what other blushes it comes close to.
I bought mine from Benefit Cosmetics online for US$28 and I'm not sure when we will have them at the Benefit counters in Malaysia (or if its out already – I haven't been around). It should retail for RM129 here, similar to the other blushes in a box.
I can't wait to try this one on. I love peachy-coral-pink blushes and they bring out the best in me!
Stay beautiful,
Paris B