I'm going to say "Radley bags" and if you are familiar with the brand, what's the first thing that pops into your head?
Might it be something adorable like this?
Or might it be something a little more understated but with a touch of whimsy and cute factor, like this?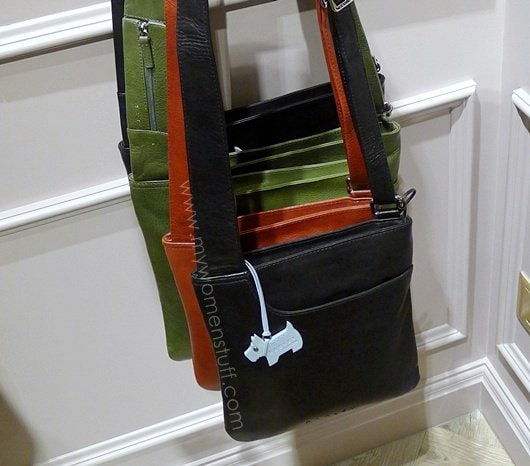 Either style you prefer, the little Scottish Terrier will probably be the first thing to pop into your head. I used to think the same too and because I don't do cute very well, I used to not pay much attention to the brand. That was until I hopped into the Radley store in their home base in London last year and picked myself up a wallet that did NOT feature the ubiquitous scottie. Interest piqued, I just picked up yet another item from Radley, that surprise, surprise, does NOT feature the little scottie at all, and in a satchel design I had been wanting! I'm on a bag ban, but I got an offer too good to resist (20% off store wide last week for just 1 day) – gotta be good after this 😛
For those unfamiliar to the brand, Radley is a brand of fashion accessories – bags, wallets, pouches, keychains, umbrellas (!) – from Britain. Their logo is the adorable little Scottish Terrier that appears in unexpected ways on their accessories. I've got some pictures of their bags below.
The indulgence I got is the Radley Grosvenor Satchel in Tan, which I'm told, is one of the designs/lines carried only in Radley stores and online (under Radley Exclusives), not at Radley counters. That's not the reason I got it. I got it really because it was just such a perfect satchel for me in such a perfect colour! I wonder if I can blame this impulsive purchase on the friend I went proxy shopping for 😛
The Grosvenor Medium Satchel or Medium Flapover Bag is a great size for toting around on weekends or even to work. I'm trying to wean myself off carrying huge heavy bags that contain everything including the kitchen sink (or what feels like the kitchen sink). It hits right at the bum (gad! I look fat – stupid angles *so I believe* :P) and fits, to my surprise, my wallet, keys, a little makeup pouch and my camera. There are 2 flap pockets in the front and one at the back and the main flap closes with a magnetic closure, all of which suits me fine. The only thing that tells you its a Radley is the metal embossed tag and the embossing on the back. Its an otherwise understated lovely well made tan satchel in lovely soft leather, with lots of hidden compartments. Love! 😀
The downside of me telling you this is that Tan isn't available anymore at the sole Radley boutique at Pavilion Kuala Lumpur. There is another similar one in black still available when I was there last week though… if you might be interested for instance… 😉 Or there are quite a few other cross body satchels in other designs too.
Radley Boutique Pavilion Kuala Lumpur
The Grosvenor satchel also comes in a larger size that you can see in the window. I found it too awkward on me, but if what you want is an everyday bag you can take to work, that looks good and is of lovely leather, do give it a look. I like how the leather feels in this line – its more pliable 🙂
Or you could just as easily get lost in the Radley Wall of Bags.
Radley Wall of Bags at Radley boutique Kuala Lumpur
Did you see anything you fancy? 🙂 You might have spotted the LimeHouse design in blue suede (middle bottom) and you can view some real photos of it here 😉 These are the latest designs from the Spring-Summer 2011 collection.
I must confess to feeling a little surprised at how understated Radley bags look. You don't get any loud logos or monogram and their Scottie logo is just oh so cute anyway, you won't mind toting that one around! I did realize that most of the hangtags are detachable. A friend has the Radley Pocket Bag in black as shown above and removed the blue Scottie hangtag because they thought it too cute. I've seen that Pocket Bag make an appearance on many occasions and although it looks small and flat, it fits water bottles, travel documents, a scarf and a few knick-knacks picked up along the way. And to top it all off, remains looking sleek, flat and chic. Makes me want one every time I see it 😛
Here are some shots of the bags as worn by the models so you have an idea how it looks on, and also the designs I liked.
The Port of Call handheld tote in the middle is super cute in real life. Pictures don't do it justice. I personally wouldn't carry it, but I can appreciate cute stuff! 😀
Either one of these bags would do nicely for a working girl – roomy enough to put lots of stuff into yet not gigantic. I'm so over gigantic bags that wear me more than I wear them! These are simple yet cute.
Part of the reason I did not get the large Grosvenor satchel is because it does not transform into a cross body bag the way the Medium one does, but it can hold loads. You can loop up the strap of the Medium Satchel to turn it into a shoulder bag so its really a 2-in-1 design. I also liked the cut out design on the Queen's Park hobo. The tone on tone design is understated yet exudes some character.
Price-wise, I'd say this is mid-priced for leather bags. I don't quite classify it as luxury, as it does not have the long history that goes with luxury brands (Radley was founded in 1998) and I won't consider this high end either. I personally find it reasonably affordable.
Many of the bags available are priced at about RM800 and under and wallets are about RM400 or so for the larger ones. I've done my comparison to the UK prices at today's exchange of RM5- £1 and found the mark-up bearable – Between RM50-100 for those I ran comparisons for. The pricier ranges are the Radley Exclusive lines which are boutique or web store only. I find them less "cute" and less embellished and I'll be honest, not many will like how simple they look. The quality of the leather however feels excellent and having done the circuit, I'd now rather pay RM800 for a good quality leather bag than RM2000 for designer canvas. Believe me, I've been there, done that and lived to tell the tale 😛
Oh I couldn't share the news about the discount earlier because I wasn't aware of it till it was too late, and it was a one day only thing. I will share future sales news on the MWS Facebook page and Twitter or you could also get onto the Radley Malaysia Facebook page too so you don't miss out.
Do you own anything by Radley of London? Are you saving up for one or has your eye been caught by anything on the Wall of Bags above? Its always worth saving up for a good leather bag. Take it from me, I know! 😉
Paris B
The sole Radley Boutique in Malaysia for now is at Pavilion Kuala Lumpur. I've seen a counter at Robinsons at The Gardens but am unsure of other locations. The Grosvenor Medium Satchel was RM1020 before 20% discount and £185 in the UK.