I love finding inexpensive products that work and what d'ya know? I found a gem quite recently at Guardian pharmacy 🙂 I love browsing pharmacies 😀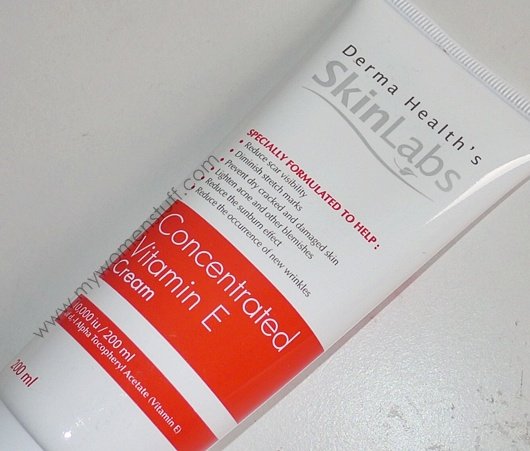 This is the Derma Health's Skin Labs Concentrated Vitamin E Cream. I picked it up because I was intrigued by the high i.u of Vitamin E it says it contains (10,000 i.u/200ml ) and because it was not very expensive – RM39.90/200ml
I tried looking for information online but there's none on this brand nor product so we'll just have to go with what we see on the tube right?
Now here's what I really like about this Concentrated Vitamin E cream. It is absolutely NOT STICKY! I know I said yay to the Kiehl's Ultra Light Creme de Corps body lotion but so many of you said "Ooh… so expensive…" so if you'd like to try something a little more affordable, this one's not bad 🙂
When I say "not sticky" I mean it. Once applied on the skin, it feels like nothing at all but yet it eases the feeling of dryness and it seems to help my skin feel better. Oh and here's another reason I bought it – since it says it contains a high volume of Vitamin E, and since Vitamin E helps with scar healing, I wanted to see if it would help heal and fade the marks on my legs from insect bites etc.
Unfortunately, despite wanting to be a test subject, I'm not very good at applying body lotions consistently. The marks on my legs did fade but I think its to do with time, and less so this cream. Still, it does claim to help reduce lines, and wrinkles and dry skin (Is it supposed to be applied on the face?! It says on the back of the tube you can use it on the face. I wouldn't but that's me). It is in fact stated to be good for dry and very sensitive skin but as I have neither, I can't tell you if it works for that. It did help me recently when I had some very dry skin problems. It was one of the few creams I tried that did alleviate the problem, although it did not cure it.
There is a powdery scent I could do without or maybe if they could make it lighter, but since I apply this at night and then go to sleep, it doesn't bother me very much. On an overall basis, I say this is a nice little inexpensive find and I will repurchase when I'm done with this tube… but it will take a while 🙂
Pros: Affordable, Absorbs quickly into skin, Not Sticky nor oily
Cons: Fragrance is a bit strong
Oh and here's the ingredient list if you are wondering about it.
Based on the back of the tube, it says that this lotion is Made in Malaysia. Nice! 🙂 Derma Health Pte Ltd. however, is an Australian owned company – I looked it up online but as I said above, I can't find much if anything about this brand online so I do not know where else you can find this.
If you are in Malaysia, I got this at a Guardian pharmacy and I expect it should be sold at most major pharmacies nationwide. (Note: I tried looking for it at Watson's and didn't find it there) It also comes in a 100ml tube for RM24.90 which doesn't make economical sense 😛
Have you tried this body cream? Or maybe you have tried other products by this brand or know if it can be found overseas? Drop me a comment! 😀
Paris B
Derma Health's Skin Labs Concentrated Vitamin E Cream retails at RM39.90/200ml and RM24.90/100ml. I purchased mine at Guardian pharmacy.