Quite a few months ago, I attended the launch of the new Olay White Radiance range with CelLucent technology. There were 2 main products they were launching – the CelLucent White Cream and the CelLucent White Essence.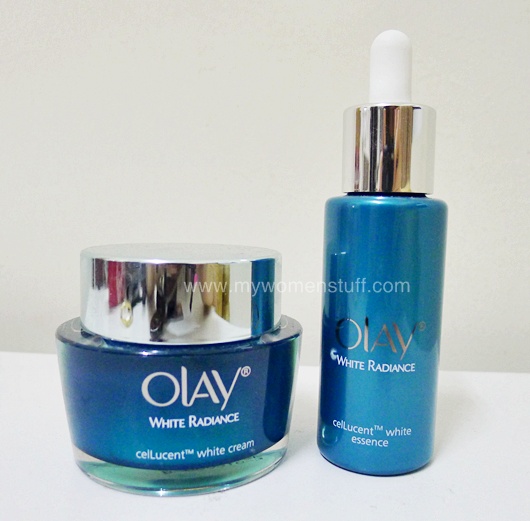 Like many women, I fight my freckles and pigmentation, in the hope to lighten them. With a promise that it would perform like that of a whitening injection (not that I'd ever experienced that), I was interested to see how the Olay White Radiance CelLucent line performed on my skin.
In a nutshell, I was disappointed. Find out why.
Olay White Radiance CelLucent White Cream
The cream is formulated to be quite unique. Rather like that of memory foam. You know how memory foam works right? You depress or squeeze the foam and it bounces back into its original shape. This cream behaves the same way. You scoop out a dollop in the morning and by the evening, its a smooth surface again. Keep doing it and it'll keep bouncing back so you have a brand new tub of cream every single time you use it. That's quite fun 😛
However this cream broke me out after about 4 days. The gel texture is very silicone-y to the touch and it just did not absorb into my skin. It just felt like it was sitting there on the top of my skin. I could rub shortening into my skin and it would feel the same way. Plus after breaking out, I set this cream aside.
Olay White Radiance CelLucent White Essence
The essence fared much better than the cream. For one, it did not break me out. Secondly, it is light and absorbs quickly into the skin. Also, that dropper mechanism delivers just the right amount for me – 1 pump is all I use.
All good. Except I saw no discernable effects. I was hoping against hope that I'd find an inexpensive alternative to the one brightening essence that works very well for me, to the extent I repurchased when I ran out. Sadly, I did not, so I'm going to have to stick to that one for now.
In general:
Pros: Easily available
Cons: Expensive, Cream caused me to break out, Essence did not lighten spots or do anything but it did not break me out
Anyone want these lightly used products? I can't use them and no one else I know wants them so if you'd like them (all hygienically used) drop me a line and I'll send them over – Malaysia only please 🙂
If you have tried either product please share your experience. It'll be great to know if it works for anyone else 🙂 As for myself, it would appear that the only Olay product that really works for me is the Total Effects cream which is pretty amazing stuff for the price!
Paris B
Both the Olay White Radiance CelLucent White Cream and the CelLucent White Essence retail at RM129.90/40ml at all Olay counters. It might only be available in Asia.