Golly me! When I asked you about the Longchamp Le Pliage tote, so many people responded with their love (and hate) for the Longchamp Le Pliage, I had to eventually find out for myself how I felt about it. No better way that to work it out for yourself you know 🙂 And no better way to tell you my thoughts than at the beginning of a brand new year!
I know I expressed my love for the Herve Chapelier 925N tote for travel but during a work trip out of town, I came to realize that the Le Pliage is more work travel friendly.
The colour I chose for my Le Pliage is black. Mostly it was for practicality and because there were only 3 colours available and black was best. I'm glad I went for black though. Boring as the colour might be, it does double duty better for work and travel.
I recently (well recently-ish) took a work trip out of town and the Le Pliage did a good job of transforming itself from a travel tote to a work tote, without losing too much character or looking overly casual. It might be the leather trim that does it. Leather's more "serious" than nylon ya know 😉
The size I chose (Medium) fits a ton. For the plane, it comfortably held my makeup pouch, shawl, flight and hotel bookings, documents, a book, gadget pouch with iPod and phone and other miscellany.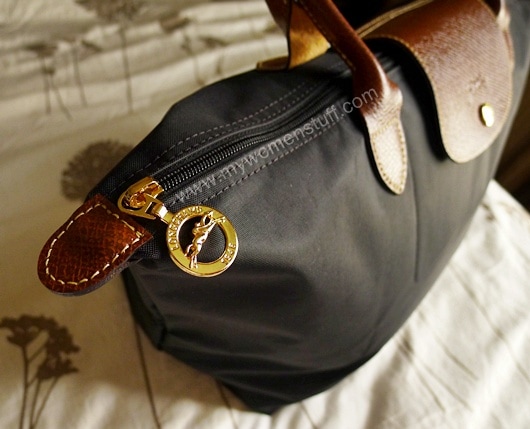 I did find however, that the over shoulder strap feels a little too long for me. It might be because I'm short but I do find that it does not sit very well on my shoulders. Less of a problem if you wear a winter coat, more of a problem if you do not. And if I put a lot of stuff in the bag, the strap cuts into my shoulder somewhat and I find myself leaning to one side to keep it on my shoulder which can get uncomfortable when you are running for the plane. Airasia yo! Be late and get left behind, but its ok if the plane is late 😛
I don't regret buying the Longchamp Le Pliage tote though. I realize that many people are put off by it being "done to death" here in Asia, but since I'm not using it as a "status symbol" (it hardly is!) I'm happy and comfortable with it as a bag I can bash around.
I particularly like using it for when I travel for work. I don't like carrying my good leather bags when I go out of town but I can't be toting a colorful fun bag that looks like it belongs on the beach, either, what with having to attend meetings and having to project a serious image and all 😛 The Le Pliage isn't the most serious of bags, but it does its job well enough in the boardroom.
But if I were travelling for fun, I'd still use my Herve Chapelier. The broad straps sit better on my shoulders without cutting and it does not feel as heavy.
As to why I did not consider the Le Pliage with the short strap? The reason is simply because when I travel or when I'm out and about (which is when I'd use the bag) I like to keep my hands free and the short strap was strictly to be hand held or arm carry only. I could fit it over my shoulder but it would be a bit of a squeeze once I get all my stuff in there.
Now go on then. Roll your eyes at me already for owning a Le Pliage 😉 I can't promise I won't own another 😀
Paris B