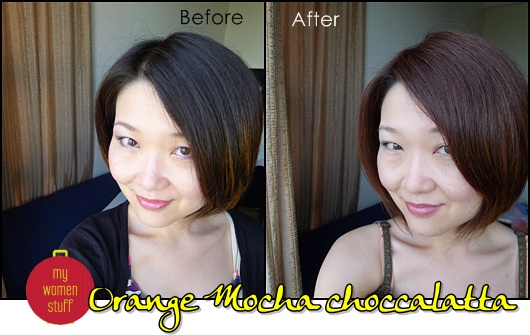 A while ago, we discussed if our hairstyle affects our fashion style.
Now that I've coloured my hair again, after years of having my natural hair colour, I'm going to ask you if your hair colour affects your makeup choices?
Do you find yourself using certain colours more, or doing your makeup a certain way when you have different coloured hair?
As for me, I used to be a bit of an experimentalist where my hair was concerned. I'd gone from a redhead to blonde-brown within a year although I never quite went the whole way to go platinum blonde – I don't think my work would allow that 😛
Along the way, I realised that depending on my hair colour, I'd do my makeup a little differently or use different colours for lips and eye. Sometimes softer, sometimes bolder and sometimes, colours that don't clash with my hair. Also, some hair colour made my skin look fairer while others made my skin look a little sallow so again my makeup had to compensate.
I recently coloured my hair Mocha Orange which is really a warm brown with orange/red highlights and the hair colour makes my skin look a little fairer than it is. So I've found that I don't do my dramatic grey smokey eye looks as much although I stick to colours. For some reason a dramatic grey smokey eye look just looks too stark against my skin and hair du jour. Instead I go with green that works somehow.
But that's me. How about you? If you colour your hair, do you find your hair colour affecting your makeup choices? No right or wrong answer (of course!) just have your say 🙂
Paris B