I don't know if you are aware of this little fact, but if you pay attention to Guerlain's packaging, do you notice the apiary (bee) theme? You might notice it in Guerlain's year end collection this year. They have gone all out with the bees and honeycomb theme, reinforcing the fact that Guerlain and bees have a long history. Since 1828 in fact. I didn't know it to be honest.
But the bee has been and still is part of the decoration on Guerlain's perfume bottles ever since Pierre Francois Pascal Guerlain decorated the Eau de Cologne Imperiale perfume dedicated to Empress Eugenie, wife of Napolean III, as a symbol of the Empire (then).
So when you see the name Abeille Royale, and you speak French, you'd realize its to do with Bees – "Royal Bees" if my French is correct 😉
What Abeille Royale Youth Serum Firming lift Wrinkle Correction (to give it its full name) is however is Guerlain's newest youth serum or anti-aging serum. Its been available on counters since late September/early October, if I'm not mistaken.
Unlike other lifting serums which focus on the loss of collagen, Abeille Royale focuses on helping skin repair the "micro-tears" in the skin which cause the dermis to sink and which Guerlain says is responsible for skin aging. Also, it can help skin repair itself to plump up the dermis and heal damage to the skin.
This serum is formulated from honey and royal jelly, two of nature's best known healing substances, and what we get, is this lovely milky serum. But I know what you're thinking. Yes, the honeycomb bottle looks absolutely luxurious and sublime, and the story is magical. But how does it fare?
When Guerlain tells you that Abeille Royale makes your skin feel velvety soft from first application, they weren't lying. Even this sceptic agrees that with just 1 application, my skin felt beautifully soft and velvety.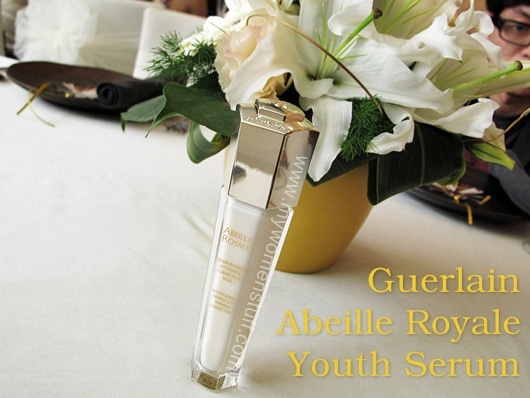 Having used so many "wrinkle lifting" serums to date, I could not test the theory of erasing lines. But I must confess that when I was using this serum, my skin felt more plump, and the skin feels lovely to the touch. I'm presently trialing something else, but I just know that when I'm done with my trials, I'll go back to Abeille Royale because it just makes my skin feel, for want of a better word, nice.
This might be attributed in part to the scent. It is a light floral scent with an undertone of honey that is at one relaxing and not cloying at all.
You don't need very much of this serum at all. The dropper mechanism dispenses just the right amount for your face with just 2 pumps. Everything in the bottle screams luxury.
But I do have a complaint. Because of the way the bottle is shaped, and the metal cover, it can be rather top heavy. So if you aren't careful, the bottle can easily topple over and that would be a very expensive accident.
Also, whilst the dropper dispenses just the right amount of serum by depressing the button in the top of the cap twice, if you don't do it properly, you end up with nothing. It can be quite irritating sometimes.
I only use this one at night, because its anti-aging, as I use other serums in the day, notably hydrating serums. As a serum, it goes on skin after toning and before moisturizer.
Pros:
Skin feels velvety and soft, Packaging is beautiful
Cons: Pricey, Bottle is shaped to fall over, Dropper and pump can be tricky
I do like it but at RM448/30ml I'd find it hard to tell you to rush out to the Guerlain counter and grab it. But if you have deep pockets and you want a touch of luxury on your skin (seeing as it does its job pretty well) I'd say this is a very lovely buy.
Now don't all of you yell "So expensive!" at me – its Guerlain, its luxury and we just have to expect that luxury comes at a (high) price 🙂
Paris B
Guerlain Abeille Royale Youth Serum Firming Lift Wrinkle Correction retails at RM448/30ml at all Guerlain counters.