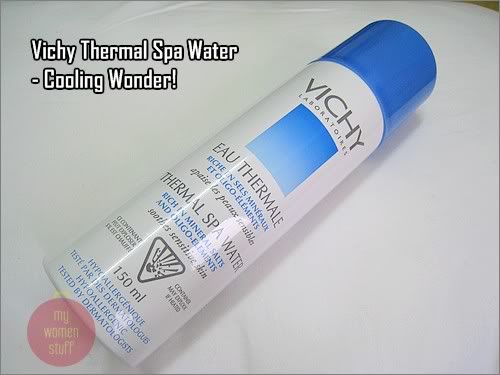 I don't know about you but the recent heatwave in KL is killing me! We were having bouts of cooling rain in the past weeks and then suddenly in the past 2 weeks, nary a drop to be seen with the burning sun beating down on us. If you drive, its even worse – it feels like being in a microwave oven, which when you think about, probably is. 😛
Anyway, this Vichy Thermal Spa Water is what I've been staying cool with. This isn't just your run of the mill water. Its pure Thermal Spa Water containing minerals and if you taste some of it (don't go drinking it!) it actually tastes a little salty (No one else reports this. Maybe its just my wonky tongue)
In this never ending heatwave, this can of Vichy Thermal Spa Water has been like a God-send. In the morning, I spritz it on before my moisturizer and again before my makeup to help cool down and after applying my makeup to help set it. It helps my makeup lasts the whole day this way. Add to the fact I apply my makeup over the Vichy Normaderm Pore Refining Essence which unwittingly acts as a primer but that is the subject of a different review 😉
I was told by the people at Vichy Laboratoires that the proper way to use this spray thermal spa water is as follows:-
Hold about 10cm from your face, close your eyes and spritz the fine mist of water over your skin.
Leave it on for a little while, then lay a clean piece of tissue paper over your face to blot off the water.
The reason behind this method is that whilst the thermal water does help hydrate and cool your face, letting it dry and evaporate off your skin can cause your skin to dry out further. So, you are advised to blot it off after a few seconds to avoid this happening. These directions are also on the label on the can.
I made sure I did this and I realized that if I leave it on to evaporate, my skin feels oily and sticky but if I tissue it off as instructed, my skin feels hydrated and supple. There's a lot to be said for following instructions! 😀
The Vichy Thermal Spa Water is recommended for sensitive skin and thermal water has been touted as helping those with skin problems like eczema. Not having this skin condition, I can't say for sure if it will help. What I can say is that its helping me stay cool in the heat, helping my skin stay hydrated in an air-conditioned office and helping my makeup stay on the whole day – it doesn't get better than that!
Incidentally, I've been using this thermal water spray in place of a toner. It works but after about 3 weeks, I found I preferred to use toner anyway because I like how my skin feels with my Kanebo Blanchir Clear Conditioner.
A 150ml bottle of Vichy Thermal Spa Water retails at RM40 at Vichy counters at Guardian, Watsons, Caring and various leading pharmacies. The small 50ml bottle is RM18 and makes an excellent travel partner. Used everyday, the 150ml can has lasted me well over 1.5 months and although lighter, is not showing signs of finishing yet.
Let's Spa!
Here's an interesting fact. Vichy is actually the name of a spa town in France. In Europe spa towns were very popular holiday spots where tourists go to get treatments and relax. Well in the old days, many of the treatments were anything but relaxing! But there's a lot to be said for the curative powers of thermal springs and thermal spa waters and we should be glad we don't have to travel all the way to France just to indulge in the Vichy Thermal Spa Water! Though come to think about it, that isn't a bad idea eh? 😉
Do you incorporate face mists or thermal water into your skincare regime? Which thermal water or face mist are you currently using? I'm thinking of incorporating the Vichy one into my skincare – its less expensive than I expected and my skin seems to like it.
Stay beautiful,
Paris B