Last month I showed you my new purchase – the Hada Labo Hydrating Makeup Remover. I got it purchased from Singapore and I initially thought it was a cleansing oil. Turns out it isn't. Not quite anyway.
The Hada Labo Gokujyun Hydaring Makeup Remover is like a gel in texture. Its transparent (its the bottle that's blue not the gel) and rather thick and viscous. Threw me for a loop the first time I used it. I was expecting oil to pump out.
That said, this makeup remover is used the same way as that of cleansing oil i.e. on a dry face. Its easy to use:-
Pump out 2-3 pumps of makeup remover onto dry hands
Apply all over onto dry face, massaging into skin to remove makeup
Add water bit by bit to emulsify and repeat until clean
Does it work well to remove makeup?
Actually, yes. Its not bad at all.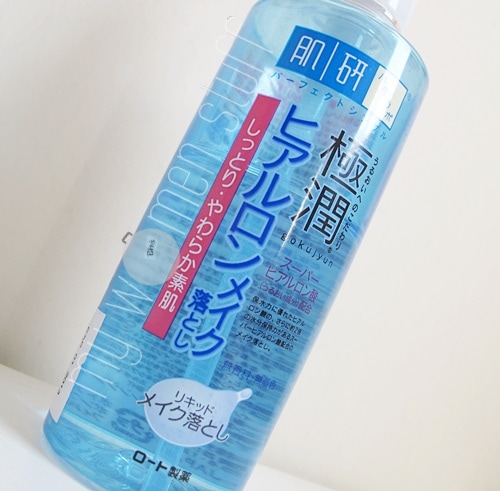 I do find that it takes a while to remove waterproof mascara but it takes off everything else quickly and easily. Its not drying on the skin and its quite gentle.
You do have to rinse it quite a lot before your face actually feels clean. That's a bit of a bummer. With regular cleansing oils, I find that the job gets done quite quickly. With this one, it takes a little longer. I do double cleanse, so it doesn't bug me very much.
Be careful if it gets into your eyes. It can sting a little. Otherwise, there isn't much else I have to say about this one. Check out the ingredient list below:-
Pros: Removes makeup, Not drying

Cons: Takes a while to wash off properly
I purchased mine in Singapore for S$17.90 (RM42). I'm told its expected in Malaysia towards the end of the year. I use this everyday to remove makeup so a bottle will last me roughly 2 months or maybe less.
Have you tried this one and do you like it? I'm not sure I'd repurchase. It didn't break me out, and it works well enough. I'd wait and see how much it will retail for here in Malaysia before I decide if it merits a repurchase 🙂
Paris B
Hada Labo Gokujyun Hydrating Makeup Remover retails for S$17.90 at Singapore Watson's pharmacy. Expected to be available in Malaysia by end 2010. Retails in Malaysia (Guardian Pharmacy) for RM39.90.