Back in August I got me grubby paws on the (then) new Clinique Repairwear Laser Focus serum. It is touted as a Wrinkle and Photo Damage Corrector. My eyes zeroed in on the words "Photo Damage Corrector". Have I mentioned I have pigmentation? Yes, a million times or so 😛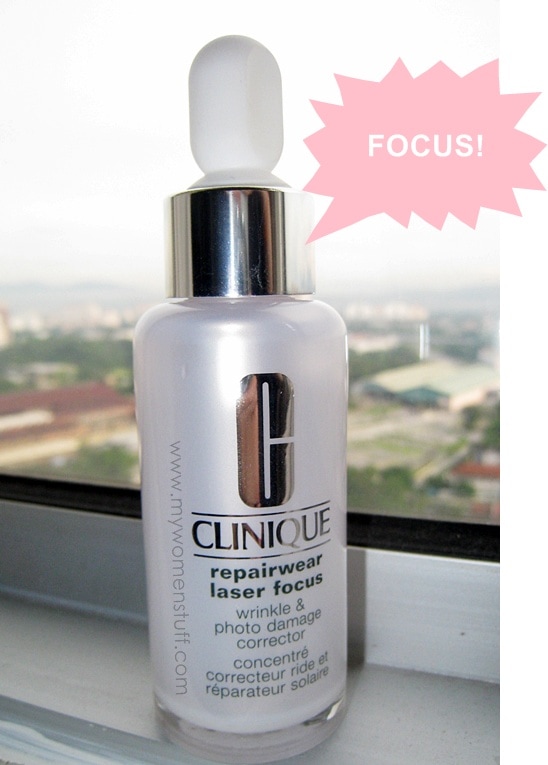 Gah! How did that picture get so big?!
But when I read the copy, I realized that the Clinique Repairwear Laser Focus does not target pigmentation sort of photo damage. Rather, it targets the fine lines and winkles sort of photo damage. Hmm… since I've been using this serum and that serum I gotta say that I'm already keeping fine lines at bay. But I gave this one a shot anyway.
So, whilst I cannot tell you if it works well to diminish fine lines and wrinkles (another serum took care of that already) I can tell you that my skin took to this one like a duck to water. It could be all those peptides and Vitamin E and C, packed into one potent serum, that did it because my skin was starting to look pretty good, plus I found a side benefit I'll tell you about further down 😉

I personally found that my pores were looking smaller – skin looked finer and it just looked a little better overall. My old acne scars seemed to be less obvious and this was something I noticed quite recently.
I had to have photos taken recently and quipped that I hoped they got my "good side" – my right side cos my skin's smoother there – but I realised that even the left side, where my old pitted scars were more prominent is now favourable.
There was nothing drastic which I like. Anything that works too drastically on skin means it contains very concentrated ingredients which sensitive skins would not like.
I do have these rather deep lines on my forehead, which I'd been working on reducing. Some earlier serums I used helped, but they were still there when I was using this Clinique one. Well, happily, this Repairwear Laser serum seems to be slowly "lasering" away the lines because I can definitely see them looking a little fainter now. I do not expect them to go away for good. They have been etched in there too long 😛
My skin feels plumped up, it looks and feels smoother and as I mentioned, my pores look smaller and pitted scars were flattening out. When I returned from my holiday, I picked up a bottle of Clinique Clinical Brightening Essence at Changi airport, because I was a shade darker from walking around in the blazing Roman sun, and the pigmentation on my cheeks were going nuts. I could play connect the dots if I were bored 😛
You know what? A week after I get back, and with just using this Repairwear Laser serum twice a day, well blow me down if my pigmentation isn't looking somewhat lighter! I notice this most when I put on my makeup. A week later, I'm using less concealer on my problem areas.
So, whilst this one isn't a whitening or brightening essence, I must say that there are some benefits in that department too. Not bad! Now I may not need to use that bottle of Brightening Essence after all 😛
You are recommended to use 3-4 drops of this serum day and night. I follow instructions (might this be why it worked?) and in the day, I will advise the use of a strong sunscreen as well.
There is one thing I'm not enamoured with – the plastic bottle. I would much prefer the use of glass for serums of this nature. The plastic looks alright, but just makes it feel a little "cheap". A 30ml bottle retails at RM200 which isn't very pricey for a serum that works.
Pros: Helps reduce lines on skin, Helped me reduce the effects of pigmentation, No scent

Cons: Plastic bottle does not fit the overall image
Some extra tips. Use this serum on your neck and hands too. Some of us have very lined necks and hands (and necks and hands show age much more quickly than our faces) so, try this on these areas. I use it on my neck too – but then everything that goes on my face ends up on my neck anyway 🙂
Have you tried this or know someone who has? When I looked online, I found that many people raved about their lines diminishing but no one experienced skin lightening while using this serum. Well I did and perhaps, you might too since our skins react differently to products 😀
Note: This product is a serum. You must still use a moisturizer.
Cleanser -> Toner -> Clinique Laser Focus -> Moisturizer
Paris B
Clinique Repairwear Laser Wrinkle and Photo Damage Corrector retails at RM200/30ml
Ingredients (from here): Water, Dimethicone, Butylene Glycol, Polysorbate 20, Methyl Trimethicone, Vinyl Dimethicone/Methicone Silsesquioxane Crosspolymer, Bis-PEG-18 Methyl Ether Dimethyl Silane, Glycerin, Silica, Polymethylsilsesquioxiane, Lauryl PEG-9 Polydimethylsiloxyethyl Dimethicone, Methyl Gluceth-20, Polysilicone-11, Sigesbeckia Orientalis (St. Paul's Wort) Extract, Retinyl Palmitate, Plankton Extract, Punica Granatum (Pomegranate) Juice Extract, Arabidopsis Thaliana Extract, Sea Whip Extract, Whey Protein/Lactis Protein/Proteine Du Petit-Lait, Pinanediol, Camphanediol, Glycine Soja (Soybean) Protein, Ergothioneine, Acetyl Hexapeptide-8, Caffeine, Micrococcus Lysate, Palmitoyl Oligopeptide, Anthemis Nobilis (Chamomile), Linoleic Acid, Sodium Mannose Phosphate, Ethylhexylglycerin, Caprylyl Glycol, Carbomer, Glyceryl Polymethacrylate, Cholesterol, Aminopropyl Ascorbyl Phosphate, Hyaluronic Acid, Sodium Hyaluronate, Tocopheryl Acetate, PEG-8, Xanthan Gum, Sodium Citrate, Sodium Carbomer, Disodium EDTA, Phenoxyethanol.