This was supposed to be a review of the new Garnier Aqua Defense Essence Moisturizer but in the process of test running it, I realised it was a passable dupe of H20+ Face Oasis for me! I'll run this first as a review then to compare it with Face Oasis.
Garnier Aqua Defense Non Stop Intense Moisturizing Essence Review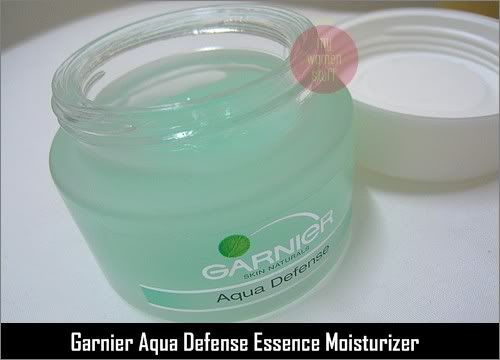 The Garnier Aqua Defense Essence comes in a light green gel form in a tub. There is a light fresh smell that brings to mind fruits, in particular green apples.
The Aqua Defense Essence contains grape water to protect skin from free radicals, apple water for anti-oxidant action and vitamin E to smooth and protect skin from cellular damage.
What it is is a very light gel that absorbs quickly into the skin. I like how it feels as it feels cool going on the skin. If you have oily skin then this would be perfect for you. It adds moisture without feeling thick and sticky and despite what many people think, oily skin can be dehydrated too! So this is what the Garnier Aqua Defense Essnce is targeted at.
If you have combination or drier skin, the Aqua Defense Essence can be used like an essence / serum. In the day, I use this on its own under my sunscreen. At night, I use it under my usual night cream or the new Garner Aqua Defense Non Stop Moisturizing Gel Cream. The Gel Cream has a slightly creamier thicker texture to suit those with drier skin. If you are oily this essence might suffice.
I've even used this as a mask. I scoop out a fair amount and slather it thickly on my face then leave it for about 10-15 minutes. There is a slight tingly feel on the skin but after about 10 minutes, its nearly all absorbed. If there is any excess, I slowly massage it until it is absorbed into my skin and there's no need for another cream at night. Works pretty well and my skin feels tight and bouncy. 😛
Here's the best part – a 50ml tub of Garnier Aqua Defense Essence retails at a mere RM19.90!! Does it get better than that?! Available now at a pharmacy near you.
Garnier Aqua Defense Essence vs H20+ Face Oasis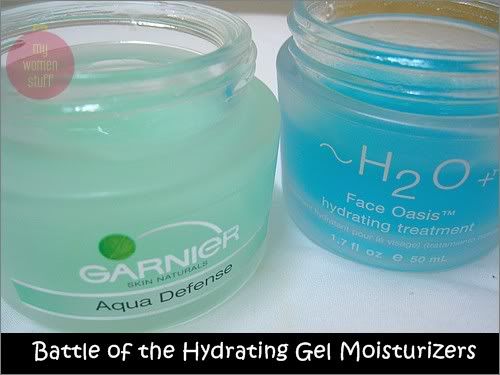 This isn't a head to head combat but a quick comparison. Just a small disclaimer – the products and ingredients are not identical nor similar. It just felt similar on my skin and gave similar results. That's my basis for calling it a dupe.
I did think the Garnier Essence might be a fair dupe for the H20+ Face Oasis so I spent a few days with the Garnier Essence on half my face and the H20+ Face Oasis on the other half.
Both sides of my face felt cool and non sticky (except when I slathered it on) and were kept fairly hydrated. I do have drier cheeks so I apply another moisturizer on top of the gel essence at night.
Both were gels with rather sharp smells but I find the Garnier Aqua Defense smells just a tad better. Both come in a tub. One is blue and another is light green.
H20+ Face Oasis costs RM159 for 50ml whilst Garnier Aqua Defense Essence is RM19.90 for 50ml. No prizes for guessing which I believe may be better value! 😉
Pros : Light, Good for oily skin, Moisturising, Very affordable

Cons: Smell can be a little strong
The Garnier Aqua Defense line is available at local pharmacies. It has already been available in Singapore for a spell, so if any Singapore readers have had experiences with this line, do share in a comment below! We'd love to know which items you recommend 🙂
Stay beautiful,
Paris B