I don't fall in love with fragrances easily. I wear them and I have my favourites but the last one I liked from Dior was Chris 1947 which was seriously limited edition and so rare I'm spritzing it on only very sparingly to make it last.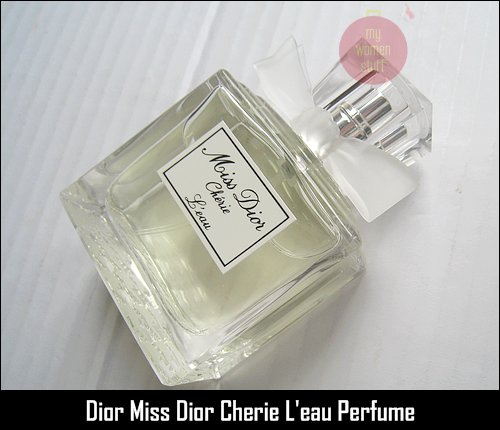 However, when I first caught a whiff of the new Miss Dior Chérie L'Eau, I found myself seriously falling for this fragrance!
I'm no perfume afficionado so do bear with me 🙂 The scent is very light and faintly floral – a perfect scent for the day or when you're feeling girly. What this scent conjures up in my mind is summer, light dresses, flowers in a garden, pastel colours, raindrops on roses, whiskers on kittens … you get what I mean 🙂
Miss Dior Cherie by Francois Demarchy is as he says "not a complicated perfume". I must agree. There is something so refreshing in its simplicity I could wear it everyday 😛
The key ingredients are : Bitter Orange, Gardenia and White Musk
Its a very very pretty girl scent in a very very pretty girl bottle and that my dears is about all I can say about it! Dior Miss Dior Chérie L'Eau is available at a Dior counter near you so pop by, take a sniff and tell me you don't suddenly feel young and girly and pretty 🙂
A 50ml bottle retails for RM208 and 100ml for RM298. I hope they never discontinue this one… ever!

I think the Miss Dior Chérie L'Eau TV commercial directed by Sofia Coppola has distilled the essence of this lovely new fragrance 🙂
Enjoy and stay beautiful,
Paris B