You might have seen the ads on TV and the papers or you might have taken part in the Garnier Search yourself (if you did, do let us know how it went for you!).
But the search now draws to a close with the unveiling of the 8 Finalists of the Garnier Search. 8 lovely young ladies, 1 of whom may be on their way to potential stardom, richer by RM10,000 and star in their own Garnier TV commercial. You can't say that won't open doors to bigger better things!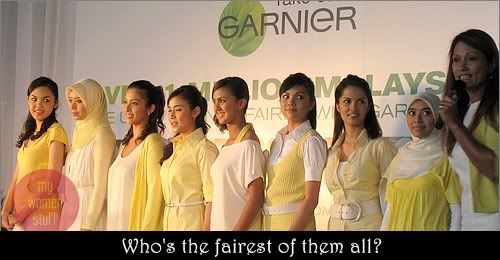 L-R: Kamelia Nisha, Nurina Fauzan, Santhawan Boonratna, Nuzul Ferhanis, Jaslinder Kaur, Siti Nurhidayah, Sheresta Melissa and Siti Hajar.
Here's how you can turn one girl's dream to a reality.

Head over to www.tv3.com.my/garniersearch and vote for the girl you think should win. Its easy but choosing just one might be hard.
To make it harder, as emcee Yasmin Yusof said, they are all young, bubbly and very enthusiastic with the full bloom of youth. The world's their oyster! Jealous yet? 😉
I've voted … and no I'm not saying who I voted for 😛
So go on, make 1 girl's dream a reality eh? 🙂
Stay beautiful,
Paris B