Another weekend ahead of us – ah… bliss! Ok so I have loads of household chores to do, but being able to sleep in is bliss anyway 🙂 Here are a couple of deals I've come across and which you could take advantage of.
Elianto has revamped their website and taken their business online. They now have free shipping with purchases of RM100 and over. They are also running some nice promotions in store based on the flyer I picked up at the booth at MidValley Megamall. Incidentally, in conjunction with their 4th anniversary, Elianto has introduced an Organic Olive hair care range with prices ranging from RM29-39. Will let you know how it goes after I've used it 🙂 You can check it out at the Elianto stores and counters or at the promo booth at MidValley Megamall North Court.
Definite Cosmetics Megasale promotion – Purchase 3 Face Products at RM198 with a total savings of 30% discount; Purchase a Mix & Match Promo Set at RM168 (one face, one eye and one lip product; Buy any three (3) eye products at RM138; Buy any two (2) lip products at RM88
I Nuovi Cosmetics is running a promotion on www.inuovi.com where you get 30% off the Studiocake and free shipping on online orders. Great way to try I Nuovi for those who don't have access to a store or counter.
Shu Uemura launched their Tokyo Lash Bar 2009 on Thursday with the theme "Lashes in Nature". If you're in MidValley Center Court this weekend, check out the 4 special lashes inspired by nature, 2 of which are pictured below.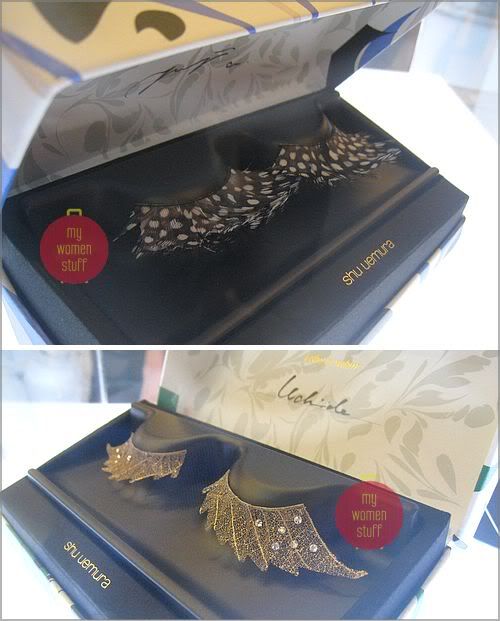 I like the one on the bottom – the fine filigree is so delicate. Absolutely reminds me of a leaf with dew drops on it. How can anyone wear this! Of course the piece de resistance for me was this:-
I call it the "I got punched in the eye" lashes. Even scarier up close when you see the girls wearing it. Check it out and perhaps learn to wear falsies while you're at it plus immortalize your new look with a photo 🙂
Did you know the Ikea sale starts July 16 2009? I didn't but now I do, I'm postponing my planned trip to Ikea until next week 🙂
If you're at a loose end next Sunday, do join us at the REN Skincare workshop – its free after all. I'm curious to see what they're going to tell us then 🙂
Hope everyone has a great weekend!
Paris B