Day 17 of the 30 Lipsticks in 30 Days project takes us to a drugstore pick of Rimmel Gloss Maxx lipsticks.
Rimmel Gloss Maxx Lipstick – 004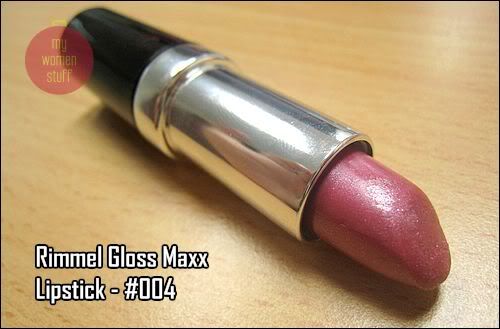 I had a Rimmel Gloss Maxx lipstick in 001 when Rimmel was first launched in Malaysia. Then, I was given 004 by a friend. It wasn't a color I'd pick up myself as it looked a little cool but I was game to try anything.
In the tube 004 looks to be a cool toned rose red lipstick. However, I knew from previous experience that the Rimmel Gloss Maxx lipstick goes on quite sheer due to its formula.
On my lips, it takes on a sheer shimmery pink colour.
The swatch in the picture is a little warm as you can see from the coloring of the rest of my skin. In fact, I look jaundiced! :P Sorry for the bad pic LOL… In person, its a cooler pinker tone that goes well when I'm wearing cool pink blush but not so otherwise.
You can read my earlier review of Rimmel Gloss Maxx 001 lipstick. Rimmel London is available at major Watson's outlets and retails at RM19.90. Not too bank breaking if you want a quick pick me up.
Stay beautiful,
Paris B