Day 18 of the 30 Lipsticks in 30 Days project features a star pick of Dior lipsticks in the Dior Rouge line.
Dior Rouge Lipstick – Eternal Pink / Rose Eternale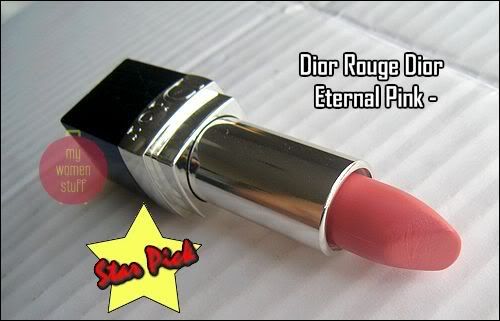 I'd always been a fan of the Dior Addict lipsticks and I loved how creamy they were. However, after trying the Dior Rouge Lipstick formula, I too am sold on this line!
Unlike Dior Addict, I find that the Dior Rouge lipsticks feel harder but glide on with a more satin feel and the colour goes on the lips pigmented and long lasting. There is no shimmer or glitter which makes this a more "grown up" option.

Best of all, there is no fragrance and feels like nothing on your lips. I swear, I've never had a lipstick feel like nothing on yet provide me with good colour.
Eternal Pink is a light peachy pink. This is a nod to readers who had been requesting something less red or rose and more pink. Admitedly, Eternal Pink is a lovely light pink nude colour that goes well with almost any shade so I can just literally grab and go without being afraid that it'd clash with the rest of my makeup. The lipstick actually covers up my natural lip color which is why such a light pink works in this lipstick and not in others.
Strangely, the other Rouge Dior lippies I have are all in the light category. Next time I'll have to get one that's slightly rosier 🙂 Oh and I mustn't forget to mention the packaging. Mimicking the Cannage quilt design on Dior's Lady Dior bag the case is elegant and sleek. Is it any wonder that Dior is among my favourite brand of lipsticks?
Each Dior Rouge lipstick retails for RM75 at Dior counters – I say its worth it because it works for me. 🙂
Stay beautiful,
Paris B