[warning]
The Dior Giveaway is now closed. Thank you for participating. Winners will be announced in due course.
[/warning]
Did you enjoy Week 1? 🙂
Week 2 of the My Women Stuff 2nd Anniversary Giveaway sees a sweet generous gift courtesy of Dior cosmetics!
The Prize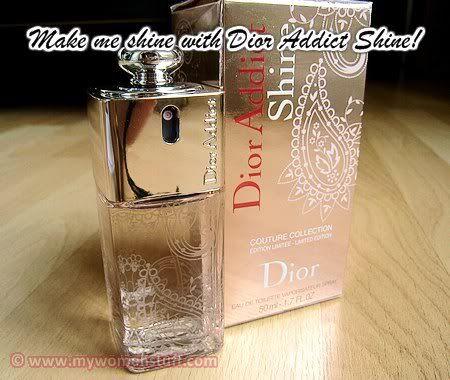 Dior has been very supportive and have kindly sponsored one (1) 50ml bottle of the new Limited Edition Dior Addict Shine perfume (Couture Collection) worth RM218 that is just out at the counters. Just launched in March 2009 you'd be one of the first few to own this lovely scent.
How do you enter?
How to enter
All you have to do to enter for this giveaway is to leave a comment below telling us this:-
I want to shine with Dior Addict Shine because… (not more than 25 words)
Name one Dior product I have mentioned here on My Women Stuff. (Tip: Check the featured brands in the sidebar for Dior products.)
Additional Entry
For an additional entry, subscribe to receive my feed by email (you can fill up the box in the header above or below this post – make sure your email address matches the one in the comments and make sure you activate your subscription). If you have already subscribed, there's nothing more for you to do!
Deadline
The Dior Cosmetics giveaway runs from now until 12 noon 14 March 2009 (+8 GMT). Comments will then be closed and a winner will be picked at random.
Exclusions
All winners of the Christmas and Valentines Day giveaways are excluded. Lets let others have a chance eh? You are free to promote this contest in any manner you wish e.g. blog etc. :).
Simple Terms and Conditions
There will be only 1 winner.
This Giveaway is open to readers with a mailing address in Malaysia only.
The winner will be chosen at random based on the comments below.
Prizes will be sent by me.
Only 1 comment please. Repeated offenders will be banned from future giveaways.
Have fun and good luck!
Stay Beautiful,
Paris B