The only item that really captured my imagination from The Body Shop Moroccan Rose collection was the lipsticks. They were very emollient and applied very smoothly.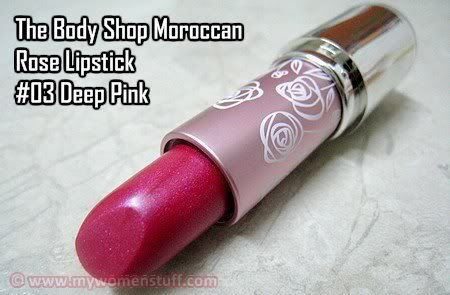 I ended up getting one of the Moroccan Rose lipsticks in 03 Deep Pink. In reality, it is less "pink" than fuschia and to be perfectly honest, can look pretty scary on! Haha…
What's pretty about the Moroccan Rose lipsticks is the packaging. Although the cover is a cheap looking transparent plastic, the body with its metallic pink tube and white print flowers looks very feminine and pretty. Contrary to my earlier opinion, there is a slight rose scent to the lipsticks. I guess the tester had been left open so the smell had dissipated.
In terms of colour, as I have stated, the colour is a deep rose-pink that borders on fuschia. The sales person at The Body Shop tried her darnest to dissuade me from getting it, persuading me that #2 True Pink was more popular and more suitable for Asian skintones. Much as I liked True Rose, its been a while since I wore a bright pink lipstick so I decided to rebel. 😛 That said, Deep Pink is a colour that might suit those with darker skintones or very light skintones best. And better still if you handle cool tones well. Also, you'll have to like bright lipstick because this one's bright!
I happen to like the colour somewhat. I like bright colours and the colour looked pretty decent on me.
However, due to its emollient quality, it slips off quite easily. The lipstick lasts a couple of hours before I have to reapply. It barely survives morning coffee… sigh…
The Moroccan Rose lipstick is limited edition and retails for RM49. Its not dirt cheap and neither is it super expensive. The other 2 colours are much lighter and more wearable for everyday but if you are adventurous, try Deep Pink. 🙂
Pros: Affordable, Emollient, Nice Colours

Cons: Does not last long, I did not like the rose scent

Paris B's [rating:3.5/5]
The Body Shop 2009 Award Finals – and what can be improved
I attended the makeup finals by The Body Shop makeup artists featuring the Moroccan Rose collection as a guest. Beetrice has given it good coverage so I won't repeat it. I saw one of the makeup artists using a lipstick (possibly Deep Pink!) on one of the model's eyelids and then blending like crazy to a soft pink. It was quite an innovative use of product I thought. She did not win however.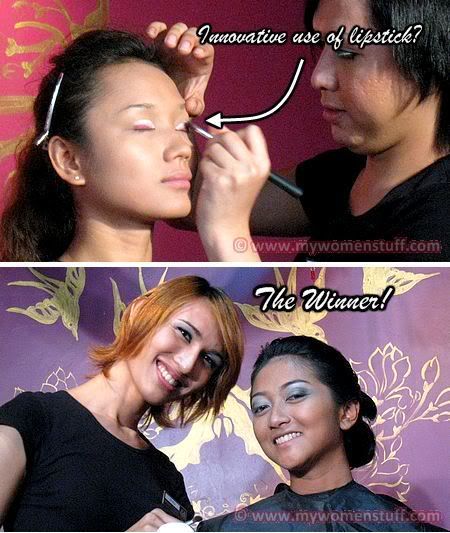 Whilst I enjoyed attending the event, there are a couple of things The Body Shop might want to bear in mind for future events of this nature:-
The emcee can chat and interact with the audience, but please do not treat us like we are 6 years old or have the mental capability of 6 years. It does not endear us to you. Also there's no need to suck up to the boss all the time in public. 😛
A bigger venue might be better to accommodate the number of invitees. The enclosed venue with its burning candles, flowers and crowds could pose a fire hazard.
Door gifts whilst appreciated should not contain press gifts from 2-3 years ago. Especially not when it is cream based products. Also if invitees are allowed to bring guests and they do, don't discriminate against guys. The Body Shop has a men's range – samples of products will go a long way towards making the men happy and might even net a new customer! Merely handing them a copy of Cosmopolitan (Malaysia) magazine when girls get a little bag of goodies is

not acceptable

in my book.
Guests of invitees should be allowed to vote for the winners. It doesn't make sense otherwise to have the crowd but only a few voters.
Please when announcing winners, refer to them by name not a number. If I were a winner, I'd like to be called by my name too. Especially if I was a makeup artist in a store – it'll encourage people to ask for me by name. They can't go to a Body Shop store and ask for #5 can they?
Ranting aside, its a Monday and its a Public Holiday here in Malaysia. How are you spending your public holiday or long weekend? Did you collect your Lancome Blanc Expert free samples yet? I'm in an undisclosed location 😉 having the time of my life! Wanna take a guess where? 🙂
Stay beautiful,
Paris B