I have been a little too busy to trawl the pharmacies lately, so this might be stale news to many of you. But its new to me so do bear with me 🙂
Silkygirl Blink Glitter Eyeliners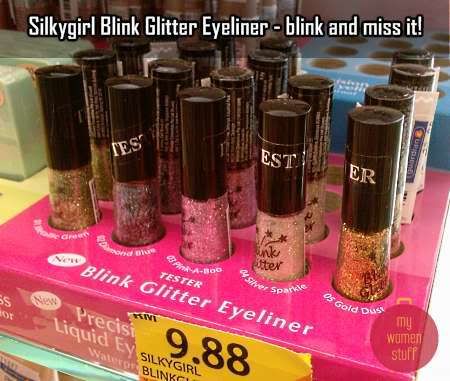 First up are the Silkygirl Blink Glitter Eyeliners I spotted at Guardian at a promotional price of RM9.88 each. They are really tiny and come in 5 colours – Metallic Green, Diamond Blue, Pink-A-Boo, Silver Sparkles and Gold Dust. I tested a couple on the back of my hand.
Sorry Silkygirl, these glitter liners suck big time for me. The bottle is very tiny and the brush is a very thin skinny taklon brush that felt too flimsy. The quality of the brush also differs from tester to tester – some were thick some were skinny. The liner swatched clear with HUGE chunks of glitter in them. You could easily dupe this with clear liquid liner dusted over with some glitter or shimmer eyeshadow…. and probably get a better result!

Maybelline Clear Smooth Mineral Foundation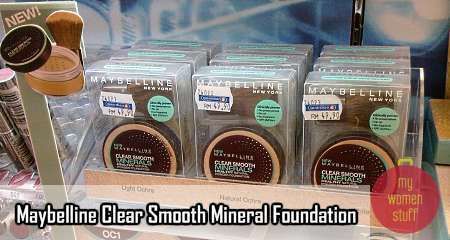 Retailing at RM49.90 are Maybelline's contribution to the mineral foundation craze. They come in 6 colours, and a little kabuki brush. The brush is sadly, not much use as its too small and it pokes and scratches 🙁 It might be just the tester but if this is how if feels after 100 people have played with it, it doesn't make me feel any happier about it.
Colour-wise, I could not find a match in the Clear Smooth Mineral Foundation at all. All the shades were just a touch too yellow for me. I did not see the ingredient list so I cannot tell if they are truly "pure minerals" or not. I'm not into mineral foundation but if you are, you could check this out for a relatively cheap powder foundation.
L'oreal White Perfect Pearl Foundation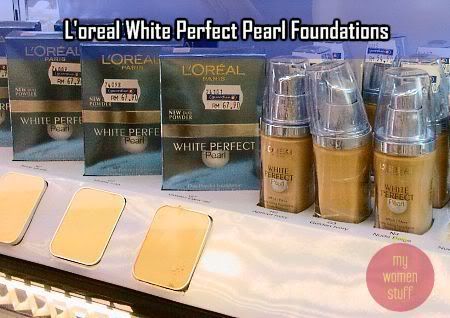 Coinciding remarkably with Lancome Blanc Expert's new improved whitening line is the L'oreal White Perfect Pearl foundation. (btw have you printed out your voucher for free samples of Lancome Blanc Expert skincare yet? 🙂 )
L'oreal's new foundation comes in 2 forms – the 2 way powder foundation (67.90) and liquid foundation (RM54.90). The powder foundation caught my eye with its dual colour tone – the top bit is lighter. I was curious why this was so and I was also curious why Pearl? Does this new foundation contain pearl? Does that explain the relatively high price tag?
That said, I liked how the powder foundation felt when I swatched it. It felt smooth and silky and nice! Incidentally, I've hit pan on 2 powder foundations – does this justify my trying this new one out? 🙂
Its almost the weekend!
For Malaysians, we are going to enjoy a long weekend what with Monday being a public holiday. For readers in other countries its still a 2 day weekend to look forward to! How are you planning to spend this weekend? Do you have anything exciting on you'd like to share?
Me? By the time you read this, I might be up in the air somewhere where I cannot check my emails 😛 Or I might be bumming around in an airport somewhere checking out the dutyfree goodies 😀
Either way you plan to spend your weekend, have fun, stay safe and…
… stay beautiful!
Paris B