Stila's Spring 2009 offering looks promising! I am quite quite captivated by the eyeshadow palette which comes in that lovely slim packaging that I adore from Stila. It makes it so much easier to carry around and I don't mind the lack of an applicator because I never use them anyway.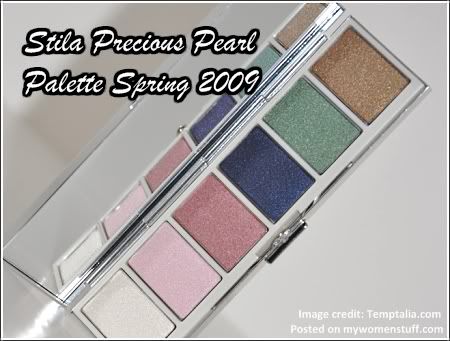 This is the Stila Precious Pearl Spring 2009 eyeshadow palette and although it looks to be a hotch potch mix of cool and warm coloured shadows, I like it! Ok, the pinks make me balk a little but the cream-white, green and blue are calling my name.
*Paris B… Paris B… come buy me… * 😛

Unlike previous years, the Stila Precious Pearl palette comes in a pearly white case which makes it look nicer than brushed metal, since even companies like Lavshuca and Coffret D'or are doing the slim brushed metal cases popularized by Stila.
The Stila Precious Pearl palette will retail for US$40 in the USA in February 2009 so I'm thinking we might see it here in Malaysia some time in March-April 2009. The Stila Kitten summer 2008 palette retailed for RM190 so I'm expecting a similar price – so much more expensive than in the USA but what can we do eh? I'll definitely be watching out for this one! Do head over to Temptalia for more droolworthy pictures.
Are you fascinated by this Stila Precious Pearl palette too?
Oh and here's something for the weekend – Wedding Planning Tips which is run by PinkElle (da sister yo!) was recently featured in Female Brides – yes the magazine!
Click here for the article and go on over and say hi; and if you are planning a wedding, you might find it useful. 🙂