We love the Sonia Kashuk Powder Brush, yes we do! 😀 That about sums up how I feel about the powder brush in a nutshell. Now, onto slightly more detailed thoughts.
The Sonia Kashuk Powder Brush is available at Target stores or Target.com and only available in the USA. Mine came courtesy of a good gal pal to whom I am eternally grateful for getting these for me.
I love how the handle of the brush is curved. It allows it to fit nicely in your palm although I'd have preferred if it was slightly thicker so it fits better. The brush head is full and oh! so soft! I cannot quite describe how soft it is, but if you can imagine airy cotton wool on a brush, this is it.

A problem I have had with soft brushes is that they don't pick up powder well, but the Sonia Kashuk powder brush manages to be both soft AND useable! I used it to apply my Make Up For Ever Super Matte Loose powder and it applied like a charm. It picked up the powder nicely and deposited the powder evenly on the skin. And did I mention how soft it felt going on the skin? 🙂
I also tried using this brush with my Meteorites Illuminating Pressed Powder and Bobbi Brown Shimmerbrick. It picks up just the right amount of powder so you don't end up looking like a disco ball. That's nice because another powder brush I own by Tony & Tina (its also awesome but discontinued) is very dense so does not work with such highlighting powders. I also used the Sonia Kashuk Powder Brush with some blushes and found that it actually works quite well as a blush brush too, although the head is a little too big for that. It worked especially well with more pigmented blushes because it picks up less color than a dense brush would. However due to its size I work it mostly with the lighter colours for an all over sweep of color.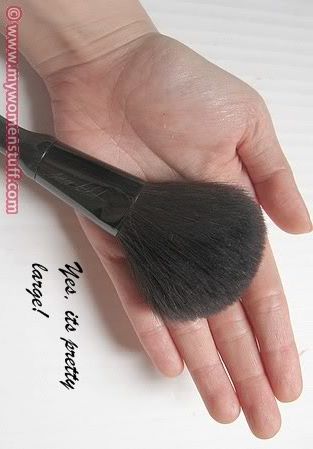 The powder brush is large though – large and fluffy. It fits into the palm of my hand and then some!
I love the Sonia Kashuk Powder Brush but although US$19.99 is cheap by US standards, at an approximate exchange rate price of RM72 its not terribly cheap by Malaysian standards. Still, I'd still say its an excellent buy if you can get your hands on it. I do have one little gripe. When I washed the brush before use, it smelt rather like wet dog. 🙁 The smell went off after a couple more washings, but yeah that's a bit of a gripe.
Pros: Super soft, applies powder well, cheap by USA standards

Cons: Not available in Malaysia, not cheap by Malaysian standards, smells a bit like wet dog at first few washes

[rating:4.5/5]