This is my common lament… Why oh why does high end liquid foundation oxidise on my skin? Actually, I'm not complaining very much because this means I don't use high end foundation thereby saving a bunch of money! 🙂 But its got me curious nonetheless.
What does it mean by foundation that oxidises on skin?
Foundation that oxidises on your skin is foundation that turns one shade darker or turns orange after application on your skin. Sometimes, the colour is a perfect match when applied but after being exposed to your skin and to the air, it turns a shade darker or it turns orange i.e. not a perfect match any longer.
Why does foundation oxidise?
There is no one answer to this. What causes foundation to oxidise might be a combination of various factors including PH of skin (how acid it is), humidity, skin temperature and oiliness of the skin. It could be one or it could be all.

I have similar skin with my friend but the foundation looks great on her
All our skins are different and so is body chemistry. So, what works for one person may not work for another and vice versa. Think of perfume – what smells heavenly on someone else might just smell like rotting garbage on you. It boils down to body chemistry.
How do I know if this foundation will oxidise on me?
The only way to know is to test it on your facial skin. There is no other way to tell if a foundation will work for you or not. Foundations are one of the trickiest things to buy in my book. I can never really tell if they will work for me, so I always make sure to try to get a sample or to test it on my skin before actually buying anything. This is the only way I know that I can't wear Make Up For Ever foundations (of any formula) because they all oxidise on me and any lighter shade does not match my skin tone. Pity because I've heard so much about their foundations. Strangely enough, I have less problems with powder foundations and with foundations from low end cosmetic brands. I tried a Chanel powder foundation once that looked great when I applied it in the morning, but an hour later make me look like Paris Hilton with a fake orange tan. Blergh!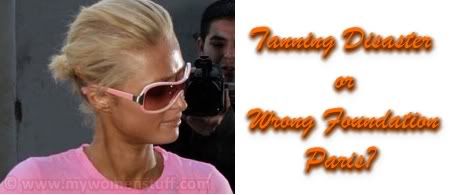 How can I stop the foundation from oxidising on my skin?
One way may be to use a primer or makeup base. A makeup base creates a barrier between your skin and the foundation so it may prevent the 2 from mixing and reacting with each other. However, your foundation can still oxidise if it is the air and humidity that's causing it instead of skin, so its not a fool proof method. Another method would be to wear a shade lighter than your skin tone. That way, once it oxidises you are likely to get a colour that matches your skin. This is risky however because a key tenet of buying foundation is to match your skin tone not change it. So, my best advise would be to NOT buy or use the foundation if it oxidises on you. There are so many others out there you are bound to find a brand or formula that works for you!
Do you have any thoughts on why any foundation may oxidise on your skin? Have you experienced foundations oxidising on your skin?