I mentioned to Jojoba in a comment below that although many Make Up For Ever face products don't seem to work well for me, there is one that does. It is the Make Up For Ever Super Matte loose powder in Translucent.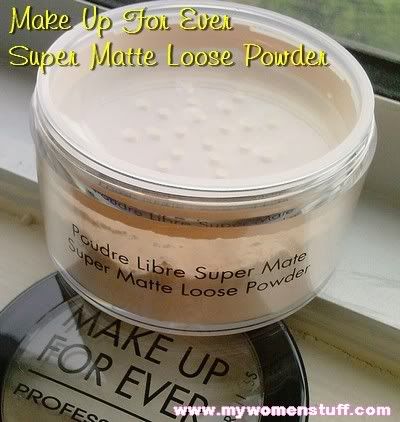 I raved away about T. LeClerc's loose powder in a previous review and yes its awesome, but my favorite loose powder of them all is the MUFE Super Matte Loose Powder.
I use No. 12 which is Translucent Natural. It should be able to suit most skin tones since its supposed to be translucent. The colour is a natural light beige in the pot.
What I like about this loose powder is its texture. It is very light and very finely milled. It goes on smoothly and truly lives up to its name – super matte. It really keeps your skin feeling matte and soft. I usually dust this lightly over foundation when I wear a full face of makeup. On other times, when I don't use foundation, I apply this powder on bare skin after my sunscreen or concealer. Although it is translucent, it does help to even out the skin tone slightly so it can even be worn by itself and the texture makes the skin feel satiny soft.
To test its oil control properties, I tested this loose powder over the weekend when I knew I would be running around outside in the hot sun. In the morning, I applied it on top of my sunscreen and instantly saw my skin looking matte and not oily or greasy at all. The skin feels really smooth and soft to the touch after applying the loose powder. After being outside until the afternoon, I realised that some oil was showing through, but my skin still felt soft and smooth. On days when I wear this indoors, my foundation/powder looks as fresh as when I first applied it in the morning, with no signs of wear or oilies. Wonderful!
The Make Up For Ever Super Matte loose powder comes in a large 28g screw top jar with a plastic sifter top. The packaging is very serviceable and minimal but I find it ten times better than T. leClerc's. It doesn't come with a puff, which you can purchase separately. I usually apply my loose powder with a brush so it doesn't bug me much. However, I do find that applying it lightly with a puff helps it stay on longer. I usually lay the puff over the sifter, turn the tub over once and then lightly tap it on my face. Very little is needed to achieve the effect of satiny matte skin.
A 28g tub costs RM110 which I think is very reasonable. It will certainly last a long time. This loose powder is available at all Make Up For Ever counters currently at U Parkson in 1 Utama and at their stand-alone booth in KLCC. I don't think I'm ever going to change to another!
Pros: Keeps skin super matte, skin feels satiny soft

Cons: No puff included
[rating:4.5/5]
Stay beautiful,