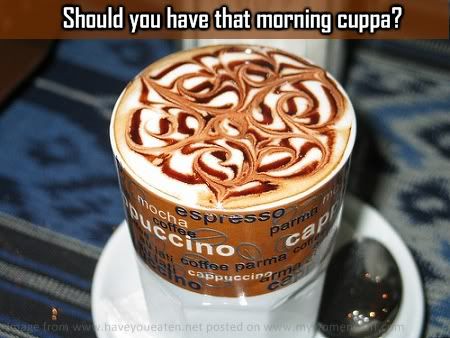 I read Vivawoman's post on how green tea may help with slimming and then I thought – Wait a minute here, I don't drink tea in any colour or form. I just don't like tea. But I like my coffee. So, are there any benefits of coffee at all?
I undertook some research on this and found that although coffee gets a lot of flack because of the caffeine it contains, there are also benefits to coffee and caffeine in regular small doses.
Coffee Berries contain high antioxidants
Like tea, research has shown that coffee too contains antioxidants and may be instrumental in reducing the risk of certain diseases like diabetes and parkinson's. BeyondJane has an interesting article on the anti-aging benefits of coffee that is worth reading. Apparently, it is shown that coffee berries actually have a higher amount of antioxidants than even tea!
However, the most common known benefit of coffee or caffeine is as a stimulant. If you have ever wondered why only a cup of strong coffee in the mornings can get you going when nothing else can, it is attributable to caffeine and its stimulating properties. Too much however can lead to headaches, migranes, heart palpitations, anxiety and leech calcium from your bones. Ooh that all sounds horrid! In fact, for some, just one cup might just be too much caffeine which might explain why some people get headaches after drinking coffee.
On the other hand, there is a report about using caffeine to help premature babies through their first few difficult days. I thought that was interesting although a dosage that large in an adult may be way too much! I do wonder if the preemies might get a little "addicted" to the caffeine though…

Coffee constricts blood vessels
Coffee is also a diuretic – it constricts blood vessels and can dehydrate. So, the known side effect of taking a lot of coffee is dull skin. However, if you limit your coffee intake and take lots of water after that, there is no reason why you should cut your regular cuppa out of your diet! (link)
However, the properties of coffee and caffeine in constricting blood vessels might prove to be a goldmine yet. Research has shown that using caffeine topically on the skin can help constrict the blood vessels, helping those with rosacea, and reducing dark eye circles or puffy eyes. Coffee is also a well known ingredient in helping reduce cellulite. In fact, Avon says that caffeine is crucial in a good cellulite cream! Now who said caffeine was bad again? 😉
Incidentally, the new Garnier roll on eye treatment pen contains caffeine to reduce puffiness around the eyes. So, it appears that the principle is sound.
Beauty benefits of Coffee grounds
If you drink ground coffee at home, don't throw away the coffee grounds once your coffee is made. Coffee grounds can be reused for beauty benefits as well other uses. I know of one that I have tried:
Coffee grounds Exfoliant : Take the warm coffee grounds and mix with some olive oil into a paste. Rub the paste on your body or wherever you have cellulite. The scrubbing motion coupled with the roughness of the coffee grounds and the caffeine will help scrub away dead skin and leave your skin feeling smooth and reduce the appearance of cellulite. Plus it also smells good and is cheap! Coffee grounds are less abrasive than apricot kernals so there is less chance of you scratching your skin.
I've been for body scrubs in a spa where they use coffee grounds as part of their treatment. I loved the smooth glowing skin I left the spa with! Plus, it smells delicious.
So like everything we eat or use, there are benefits as well as disadvantages to coffee and caffeine. The key is moderation. So, if you are a coffee drinker like I am, don't forsake your morning cuppa just yet. I know I won't because my day never starts without a good shot of caffeine in the morning 🙂
Do you have any thoughts on this or any tips to share? Feel free to share below.
Stay beautiful,
Paris B