Most of the new MAC collections have not excited me. I'm just not a MAC girl, sorry to say. This explains the lack of posts about MAC on this blog. However, when I saw the Dame Edna collection, I had to laugh. I remember watching Dame Edna on comedy skits on British tv on cold winter nights and he/she was hilarious!
I love that MAC put the trademark Dame Edna spectacles on the case of the Dame Edna collection – It is just fitting. Since I'm not a MAC girl, I can't bring myself to buy anything from there. However, having seen pictures of the collection, the Wisteria eyeshadow trio seems to call my name. Over the weekend, while I was passing a MAC store, my eye was drawn to the bright red words "DAME EDNA" over the store front, and I knew I had to walk in to take a look.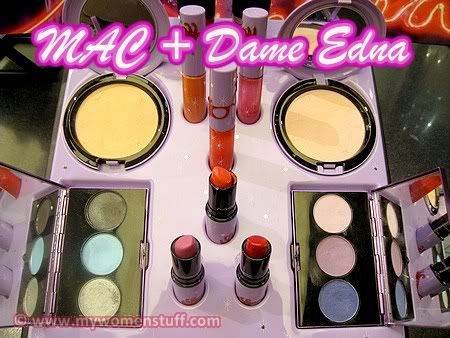 To my surprise, I actually had a good shopping experience at MAC Cosmetics! I enjoyed chatting to the makeup artist/sales person at MAC Pavilion Kuala Lumpur and I enjoyed playing with the Dame Edna collection and talking about the upcoming MAC collections with him. He was friendly and helpful and showed me various items without once being rude or dismissive – it made me rethink my earlier impression of MAC – seriously. If you are thinking of buying MAC, I recommend Stephan from MAC Pavilion Kuala Lumpur. Tell him the lady who was discussing Hello Kitty with him sent you 😉 That is, if he remembers LOL…
Anyway, after seeing the Dame Edna collection and the Wisteria eyeshadow trio (RM125) in person, I knew there was no chance of me buying it. I have owned MAC Lustre eyeshadows before and after playing with the trio, I was reminded that MAC eyeshadows are just not my style. So, I thought to myself, "Hey, why not dupe it since you won't be buying it anyway?" And you know what? I agreed with myself in a split personality sort of way, and went off to trawl through my stash.

These are the 3 colours in the Dame Edna Wisteria palette
Fineshine – Frosty true-silver (Lustre)
Wisteria – Frosty robin's egg blue (Velvet)
Divine Night – Frosty charcoal with silver pearlized pigments (Velvet)
From my stash I found this likely combination of colours:-
T'estimo SV21 – Shimmery/glittery silver
T'estimo BU55 – Shimmery Light blue
T'estimo GY36 – very dark grey with silvery shimmer
Another possible dupe came in the form of:-
Stila Poppy – Shimmery light blue (for Wisteria – bit too light)
Blue from discontinued Kate trio – robins egg blue with slight shimmer (for Wisteria)
Shimmery black from Beautilicious Alyssa quad (for Divine Night)
Stila Poppy is rather more sheer than Wisteria but can be packed on over a base. The T'estimo shades are also slightly more sheer and more shimmery than the MAC Wisteria trio. However, swatched side by side, I think the Kanebo T'estimo colours are a pretty good dupe of the MAC Wisteria Trio.
All in all, I'd say that whilst I did not find an exact dupe of the trio, I found a similar combination of colors that worked for me right in my stash! Knowing I'd never buy the MAC palette, I was pretty happy with my finds. I do realise the brands I have chosen are not very popular brands so if you have possible dupes of the MAC Wisteria trio from more popular brands do share!
Stay beautiful,
Paris B