I love writing about beauty products on my site here, but there are some other things that affect us women, that I think we should all be aware of, and one of it is cervical cancer. I wrote about the HPV test before, and although cervical cancer isn't as IT as breast cancer in terms of public awareness, we are seeing more and more information about it, both internationally and in Malaysia, which makes me happy because we do need to be aware of what can harm us and its not just our boobies.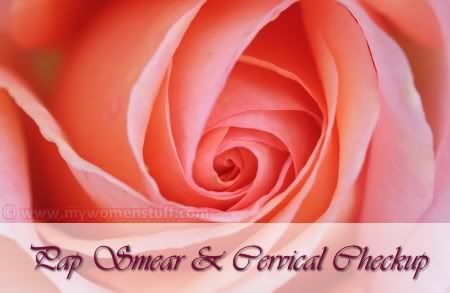 With this firmly in mind, I went for my first Pap Smear test recently. I won't provide you the gory details but you might want to keep reading if you have not gone for one and have been wondering what goes on during a Pap Smear.
What is the Pap Smear test?
The Pap Smear test is where a swab is taken of a woman's cervical walls to test for changes in the cells or conditions that might be an indication of or lead to cervical cancer. (source) It is not 100% accurate but it does give an idea of whether all is well with your body. The doctor will also do a visual check of the cervix to see if there are any abnormalities.
At what age should you do a Pap Smear?
This test is recommended for women 21 years and above or those who are sexually active and should be done once a year. In Malaysia, under my previous health plan, the pap smear test was offered as an option for those 30 years and above only unless you are sexually active.
How do they do a Pap Smear test?
A Pap Smear is done by inserting a plastic speculum into the vagina and then widening it so the doctor can examine the cervix and take the swab. If you have seen a picture of a speculum (it looks like a duck's bill), you can imagine how uncomfortable it can be. I will not lie – it is VERY VERY uncomfortable!!
Does the Pap Smear test hurt?
The test itself does not hurt in the true sense of the word. However, it is very uncomfortable which to some people might equal pain. If you imagine that someone is using a foreign object to artificially widen your vagina so they can peek at your cervix, yes, it hurts plenty! As I said, I won't lie to you about this element of it but when I complained to my Mum about it, she said "So now you know!" because she knew it all along but did not want to scare me – Moms, don't you love them? 😛
That said, it is a fairly quick procedure taking less than a minute to perform and the offending object is then removed. Whew! You may have some spotting of blood in the day or two following the test which is normal.
When should the Pap test be done?
The test is best done at the middle of the menstrual cycle, 7 or 10 days after the start of menstruation. The reason for this is because if you are too close to your menstrual cycle, the thickening of your cervix walls might mask any abnormalities or the hormonal imbalance might give an uncertain reading.
Do read more about the Pap Smear and cervix cancer at MAKNA.
I also had a cervical ultrasound check up with a probe that was quite educational. Looking at the ultrasound on the computer monitor, I had no idea how anyone can pick out what organ is what in the blurry mess on the screen! So, no the inside of our bodies look nothing like the clear bright pictures in our biology books, girls. They have been deceiving us all along! LOL…. The probe was not painful, but is uncomfortable. Still, the doctor gave me a clean bill of health which made me very relieved!
Here are some tips to bear in mind if you are planning to get a Pap Smear or ultrasound done:-
Make sure you are comfortable with the doctor and the procedure because you will be quite stark naked before a stranger. If you prefer a lady doctor or a different doctor than that assigned to you, make sure you ask. Not everyone is comfortable with male gynaecologists and some doctors just have a rough bedside manner irrespective of whether they are male or female.
Relax on the examination bed. Its easy to tense up but that only makes your muscles stiffen which can make it a more painful experience, so try to breathe deeply and consciously relax, especially down there. Singing Twinkle Twinkle Little Star to myself helped me 😛
Ask questions of the doctor before you begin. My doctor talked me through every step of the way which helped me understand and prepare for what she would do so I wasn't caught by surprise.
You can also read more on what you expect on your first gynaecological examination here.
A Pap Smear can be done at most hospitals or private clinics. We are responsible for our bodies and early detection is the key to beating any disease so, it might be a good idea to think about having a Pap Smear done if you are sexually active or if you have hit the big 3-0.
You can get a Pap Smear done and enquire about the HPV immunization at any doctor. So, if you prefer, see your regular doctor and I'm sure they can tell you more about it or refer you to a gynaecologist who can help with your enquiries.
This is a community service message from Paris B to remind us women to take care of our bodies 🙂