Righty, here's the 2nd and final part of the Christmas Giveaway results! I'm sure many of you are waiting for this 🙂
January 2009 – I am still getting enquiries from people who say they did not receive an email. Please note that there is only ONE GIFT SET and ONLY THE FIRST NAME on the list wins. If your name is not the first name, please try again next time. Thank you
The first name on each list is the lucky recipient of the gifts mentioned. Duplicate names with (f) and (b) behind them are the additional entries from secret passwords in the feed and blog entries.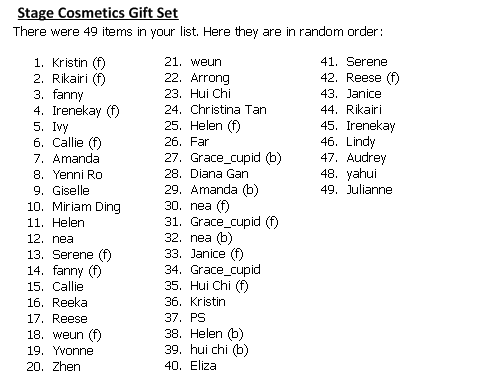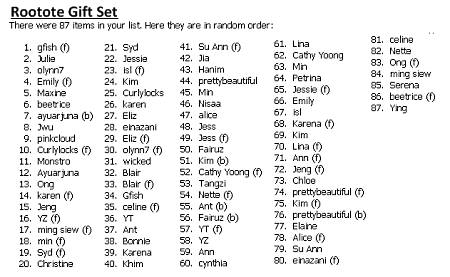 CONGRATULATIONS TO ALL WINNERS!
I will be in touch soon for your mailing addresses and you will have 48 hours to respond failing which the next name in line receives the gift. Watch your mailbox!
For those who participated but did not win, I thank you all for taking part and making this giveaway a great success. 🙂
I hope you all continue to remain subscribed to my feed and do continue reading this site because there will be more giveaways planned for next year and one really exciting one I'm working on even as we speak. I might place emphasis on length of readership and subscription… or I might not. I haven't quite decided at this point in time.
All that said, I hope everyone had fun taking part in the Christmas Giveaway this year and who knows, if I manage to get the sponsors again next year, we'll do this all again in 1 year's time! Keep your fingers crossed for supportive sponsors yes? 😀
Happy Holidays and Merry Christmas everyone!
~ Paris B ~