Note: I've been informed there is a local online seller on lowyat and perhaps on blogs going by the name "celine" who has stolen my picture below and some text to sell her own product. I am not associated with that seller and no consent has been obtained from me to use my photo or text.
A few years ago, when I first started getting into bags, I came across a bag organizer called the Purseket. It promised to keep your bag or purse organized and I craved and lusted after it, but the prices in USD plus shipping put me off since I'm in Malaysia and all. So, I bided my time and I waited and in the process gave up on a few bag designs and sizes because of disorganization issues.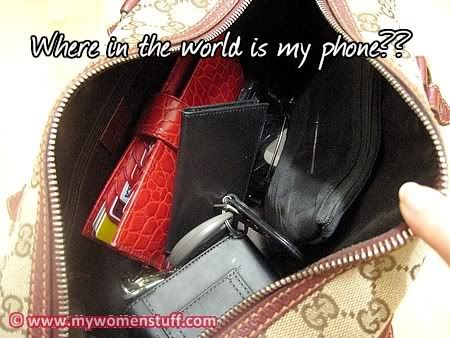 Here is an example of a bag with disorganization problems. It is a simple handheld tote bag with a large main compartment and some slip pockets on the inside that can't do much. It is a very useful bag because I can fit quite a lot of things in there, but in the process, I end up with a jumbled mess.
Keys get lost in the deep recesses of the bag, followed by sunglasses and forget looking for business cards! Half the time, my head would be stuck in my bag rooting around for something or another which can be a hassle and embarrassing, especially when I lose my mobile phone in there.
Introducing the Bag Organizer to save the world from disorganization! When I was at The Curve last weekend, I came upon a stall at the weekend bazaar at Cineleisure (next to The Curve) at Mutiara Damansara, that was selling bag organizers, amongst other things. When I saw it, I immediately yelled "Purseket!" because it was just that! The bag organizer was a purseket and available in RM and at an affordable price of RM29.90 which I proceeded to pay for in RM1 notes thanks to MySimplifieds! 😀 Its usually RM39.90 if purchased online but sold at a special promotion price at The Curve weekend bazaar.

If the ladies who man the stall are reading this, you might remember the crazy lady going "Its the purseket! Its the purseket!" last weekend while making you count out RM1 notes 🙂 It is truly a god-send for any girl who carries tote bags, or large bags or bags with lots of room in them. If you have a very structured bag with lots of compartments then this organizer will be of no use whatsoever because it won't fit.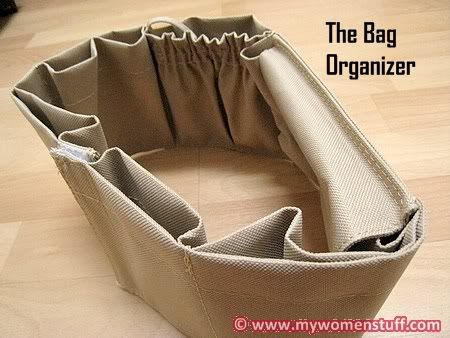 What the bag organizer is, is a long strip of polyester canvas with pockets around them and securable with velcro on one side so it sits in a circle. The organizer comes with an additional pocket that you can velcro on if you are carrying a large bag, or remove if your bags are medium-small. I use mine without this add-on because my bags aren't all that large. For reference, without the add on the rough diameter of the organizer is 27cm (11in) and with the add-on its 37cm (14.2in). So, the base of your bag must be at least that length to fit the organizer. The height is 13cm (5in).
So, once you fit up the organizer, empty out your bag and fill up the pockets of the bag organizer with your things – mobile phone, keys, business card holder, lipstick, tissue paper etc and place it into your bag. Immediately, you will notice that your bag is more organized and you can easily find everything you want without digging around. You will be left with an empty area in the middle and that's where I put my sunglasses, wallet and camera for easy access.
I absolutely love this! Look how neat it is!
Here's the other wonderful thing – the bag organizer makes it so easy to change your bags! So, there's no more excuse not to rotate your bag collection because all you have to do is remove the bag organizer and place it into your new bag. Easy peasy.
Tip: When setting up the organizer or purseket, make sure the pockets are facing IN. This way, you have proper access to the stuff in the pockets, and your bag doesn't look out of shape or bulky and you also have easy access to the pocket that has a flap on it.
The Bag Organizer I bought comes only in one size, with the detachable extra pocket. Without the pocket, the organizer sits comfortably in medium-sized tote bags, keeping its shape and helping the interior stay organized. It can make the bag feel a little heavier but I'm used to heavy bags so it doesn't bug me much. Also, it will make slouchy bags sit up a little better and add a little bit of bulk. Still, I think its a small price to pay for organization and being able to find my business cards without having to tip out the contents of my bag everytime I have to hand out my cards!
I would love it if the organizer came in a slightly smaller size. I am presently carrying a bag that desperately needs organizing, but the bag organizer is just a tad too big to fit in it. If I could but detach one more pocket or compartment, it would be nearly perfect. I guess this just gives me the excuse to take my other bags out for airing 🙂
Am I gushing? I'm gushing right? 😛 If you love bags or have found yourself in any situation as that I've described above, get yourself a bag organizer. You will love it as much as I love mine, I'm sure 🙂 I found out from the paper enclosed in the bag that the ladies who were selling this bag organizer have a blog site where they also sell them online – Sundae Chic (unsure if they are still in business). They only sold the plain ones at the weekend bazaar but I'd have been all over the animal prints or denim ones pictured on the blog site if they had them there. Still, that gives me an opportunity to pick up another since I have more than 1 bag right? 😉
The plain ones came in blue, pink, grey and beige. I picked beige because the interior of most of my bags are black so having a beige organizer makes it easier to locate items especially when the items are also black! Now, I'll wait and see if there are other fun looking prints like those Purseket has.
I've not been this excited about anything for a long long time 🙂