I was recently away for an overnight trip to Bangkok. It was super fun and I got reasonable shopping done and ate myself silly. I also walked my legs to death – they were so tired even after I got back! How that relates to this post is that I chose to go with just a backpack on my back. I wanted flexibility of time and I wanted to challenge myself to pack and move light. I managed with my clothes – I kept it down to the basic minimum but I knew skincare and cosmetics would be a different story. So, here's what I did.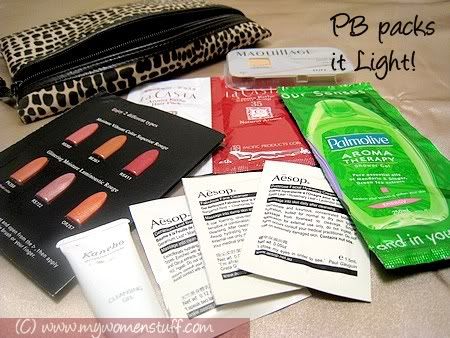 I hauled out all the sample sachets of products I had. I spread them out on the bed and picked out one of each for hair, cleanser, moisturiser etc even down to foundation and lipstick! The best part is that I got to test some products I'd been meaning to, but never got round to it.
The products I took along with me that I had wanted to try were:-
Aesop Fabulous Face Cleanser
After a 2 hour flight, washing my face with this Aesop cleanser was wonderful. The aromatherapy smell was very calming and helped soothe frazzled nerves. There was minimum lather but it cleaned well. My face did feel a little tight after cleansing though.
Aesop Primrose Hydrating Cream
I only used this at night. It was thick and oily and worked well in a dry air conditioned environment. Since it was so thick and I only had 1 night, I used the rest on my elbows. Very nice! I'd find it too thick and oily for everyday though. Its formulated for normal-dry skins.
Shiseido Maquillage 2way powder #20
This was a sample pack a friend got from Japan. It came in a plastic pack with a resealable cover, and a little sponge. Perfect for travel! I tested in the morning and it was medium coverage. Enough to hide some minor blemishes. I was surprised it did not melt away in the heat and after sweating from walking all over the city. #20 was half a shade too dark though. Still, there is enough product in there to last me a little while actually.
Shiseido Maquillage Lipstick
Why don't we get these awesome samples here? This is a sample of Maquillage lipsticks in a range of colours. The lipstick samples come in a pack like aspirin or panadol. Just pop and apply. There's surprisingly a lot of product in there and it applies sheer as most Japanese lipsticks do. I did not have a brush so I used fingers. It looked like a lip balm on me.
La Casta Hair Shampoo and Conditioner
I'm not sure where I got this from, but eeks! This shampoo and conditioner is awesome! It came from Japan and it left my hair wonderfully soft and manageable. It also smelt really nice. One sachet was enough to use twice which was great. It was just nice for my needs!
And there we have it! How I packed for 2 days and 1 night and travelled overseas with just a backpack on my back! The next time I travel for just a short time, I'd probably do the same thing with different samples. The best thing about travelling with sachets is that you just tear open, use up and throw! No hassle with customs, no flouting the 100ml rule on international flights and no worry of having to cart back half used bottles.