All the world's a stage,
And all the men and women merely players
~ Shakespeare, As You Like it
You might have walked past a new makeup store in town that looks something like this:-
… and you might have wondered "What is Stage?"
Stage is a new local cosmetics brand that is presently available in a number of cities around Malaysia and in Singapore and soon Brunei. In Kuala Lumpur, you will find Stage at MidValley Megamall and Pavilion Kuala Lumpur (look for the Padini Concept Store).
I was recently introduced to this new brand together with fellow bloggers Beetrice of Beetrice's Reviews, Kahani and Syen of Soloverly and Kimberly of Narcississm is Necessary (most apt!) where we had a good time playing with the products Stage has to offer, all thanks to Beetrice and a lovely friend MK. Never let beauty/female bloggers loose in a makeup store! LOL…
It is easy to dismiss the brand as just another MAC Cosmetics or Makeup Store or Make Up For Ever wannabe. But, I always believe that every brand has its own strengths and in that sense, so does Stage. In fact, Stage is a homegrown brand – conceptualized right here in Malaysia with products sourced from all over the world – Italy and Germany included.
Having played around with some of the products Stage has to offer, there are 4 products that stand out most at Stage cosmetics from my point of view:-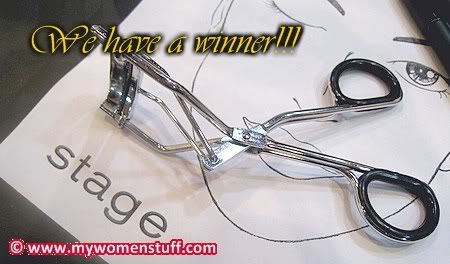 Eyelash Curler (RM35) – When 4 girls buy the eyelash curler at one go, you can bet that its good! The eyelash curler from Stage is very curved but it somehow works for Asian eyes because its smaller in width. It however will fit much better on those with deeper set eyes or those with very curved eyeballs. If you have flatter eyes it does not work as well as it should. That said, it fitted nicely on the eye area, did not pinch, and curled the lashes as it promised. Best of all, it did not pinch the pocket! Watch out Shu Uemura, you might be looking at competition!
Eyeliner Pencil (RM45) – Comes in 8 colours and goes on smoothly like crayon without tugging and is touted to be waterproof and smudge proof. I wore this while cleaning my house (not intentionally – I just did not clean off my makeup first 😛 ). Smudging was minimal and I liked the way it applied. Plus, the black was nice and BLACK!
Standing Ovation Mascara (RM50) – Standing ovation is a Lifting Mascara i.e once your lashes are curled, this mascara will hold the curl and "lift" your lashes. Check, check and check! I was sceptical but it works. The mascara held the curl – no volume though and slight lengthening. I reckon a swipe of Drama Lash (RM50) over it will up the ante.
Wonderlust Moisturising lipstick (RM48) – Light, sheer and moisturising. Perfect for me. My favourite colour is Paris (!!) Some are labeled frost and those have shimmer – nothing frosty to me though just light shimmer – my kind of lipstick!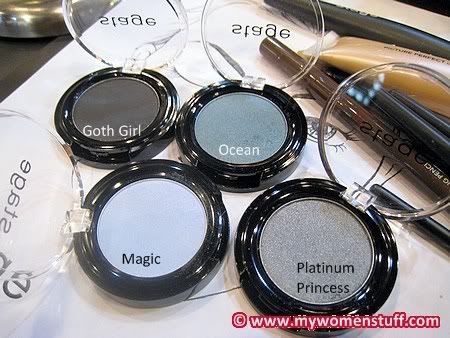 A worthy mention is the Eyeshadow Mono (RM45) which are large pans of eyeshadow colours. The texture of the eyeshadows are smooth. However, in terms of colour, darker colours are more pigmented while lighter shades tend to have less colour payoff. Overall texture seems to be sheer – good for those new to makeup or those who like the Japanese style of sheerer eye colours; but if you prefer something very pigmented you may not like this much. Do not compare it to MAC eyeshadows or you will be disappointed. The similarity between Stage and MAC ends at the eyeshadows, I have to say.
A shade I liked is Platinum Princess – A gorgeous shimmery silver grey with a complex tone. On first sight when swiped, I was reminded of the limited edition Bobbi Brown Diamond Eyeshadow in Rockstar – it had a similar colour tone and is SO GORGEOUS! 😛 Another colour I liked is Magic – it is very light blue in the pan but when applied, has a duotone shimmer that is like um… magic! It goes on whitish blue but shimmers blue-teal at angles especially over Ocean. A surprise find. The eyeshadows can be depotted and are also sold in individual pans to be placed in palettes (coming soon).
The blushes (RM58) were only so-so to me but then I'm picky about my blushes and for now, not many make the cut from ok to wonderful! Finally, the lipglosses (RM55) too deserve a mention. The applicator is a brush (which I happen to prefer over sponge tip!) and not only does it impart a high shine, it is pigmented too. I reckon its a liquid lipstick all by itself.
I'll be watching the development of Stage cosmetics with interest. They aren't perfect but they are new and they are trying and they are above all, homegrown! I am always happy to see a local brand take on the world in a David and Goliath sort of way. So, I guess I'm a supporter of the underdog 😉
Finally for those wanting to give this brand a whirl, I have with me, 1 voucher that offers you RM10 discount off purchases RM50 and above. To win this, email me at mwsgiveaways (at) gmail (dot) com with your answer to this question:-
Where is Stage Cosmetics from?
Contest closes in 48 hours (12 noon 20 November 2008 Thursday) so email me!! Winner will be drawn at random and contest is only open to Malaysians. Good luck! 🙂
p/s You might also want to check out the generous giveaway happening on Beetrice's Reviews 😉