Previously, I wrote about the Coffret D'or Party palettes released for Christmas. For some reason, I liked how they looked. So, the next time I was at a Kanebo counter, I asked if the Party Palettes were available and lo and behold! They were!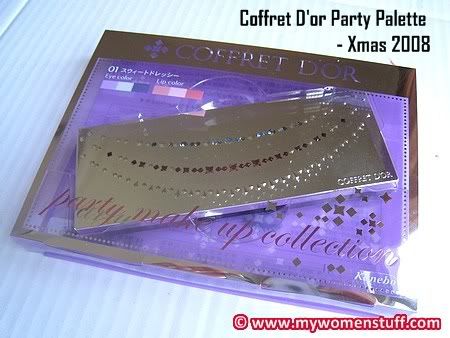 There are 2 shades available in this range – Sweet Dressy (pink/purple with rose toned lipsticks) and Noble Dressy (beige/brown with brown toned lipsticks). Only the Noble Dressy was available as a tester. The Party palettes have 3 eyeshadows and 3 lip products in one slim palette.
Noble Dressy has 3 eye colours – shimmery beige, shimmery gold and dark brown with slight shimmer. The 3 lip colours are a light peach, glitter gloss and darker browned red lipstick. It comes with a dual ended sponge tip applicator for the eyes and a mini brush for the lips. If you want a nice subtle smokey eye, this palette will be for you. That dark shade can be smoked out in a very sexy way and then highlighted with the lighter shades. The lip colors are a lot more sheer than they look. Applied, they have a slight brown tone to them which is nice and compliments the eye colours well.
Those who know me however, will be very surprised at my choice of palette. I bought the Sweet Dressy palette in the pink/purple tones.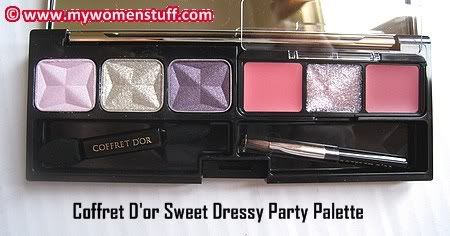 Problem was, I bought this palette sight unseen. I only had the pictures to go on because the counter only had 1 tester. However, I trusted my gut feel that the Noble Dressy palette was too brown and neutral for me and opted for Sweet Dressy instead. I think I made the right choice.
Sweet Dressy contains 3 eye colours – light shimmery pink, shimmery silver and dark wine. The 3 lip colors are a light rose red, glitter gloss and darker plum red. Lip colors are again sheerer than what they look like in the pan but I knew at one glance that these were my colours! Also, I was sure I could make the eye colours work and I was right.
Now, I usually detest palettes that combine lip and eye colours because sometimes the powder might get mixed up with the lip stuff or the lip stuff will look gunky and awful once dug in. Well I can't help the latter, but for the former, Coffret D'or has thoughtfully addressed this by including a little plastic flip cover over the lip colours! So, there is no cross contamination – I loved that, now why can't all palettes be this way?
I will say that the middle highlight eye color in the palette tends towards being less smooth and has more chunky glitter. I am not too fussed by it. The lip colours are lovely – smooth and sheer just how I like my lipsticks.
Each of the Coffret D'or Party Palettes retail for RM98. Yes you saw that right – I expected them to be at least RM120 but nope, RM98 is all you pay. If you ask me, I think this is an awesome deal and probably one of the cheapest holiday palettes available at this point! I'm told that stocks are very limited and this is limited edition so if you are keen, hurry on down to a Kanebo counter near you to check it out.