In my last post on the Coffret D'or Party Palettes for Christmas, reader Cynthia asked in a comment:-
rm98 each is really a good price,
still deciding wanna buy this or the RMK holiday palette
what do u think?
Well, I withheld comment until I'd actually seen the RMK Christmas palette in person instead of online and yesterday evening, while I was at Isetan The Gardens, I popped by the RMK counter to check out the palette. The testers are hidden away so you have to ask. They don't expect it to go on sale until next week when stocks come in.
Now, I'm a stranger to RMK products I'd freely admit. Not many things have attracted my attention much even if I know that the foundation gets raves all over the world and I should really be thankful that we have a counter here when other people elsewhere are dying to see the products in person before buying. Unfortunately however, nothing much grabs me and says "BUY ME!!"
Unfortunately, the RMK Christmas Palette falls into the same category.

The compact palette comes in a lovely gold zippered pouch and is really a double layered palette. The bottom layer holds the pressed powder, sponge and blush brush and slides underneath.
On the top are 4 eyeshadows (the colours in the picture look more vibrant than in real life where the colours are more muted) and a brown based blush. Also included is a tube of orangy gold gloss and a mini mascara with sponge tipped applicators.
At first sight, I was reminded of a YSL travel palette I own that has the same concept and pretty much the same products except that one also had lipsticks in the bottom drawer. The reason I'm not enamoured with this palette is not because of the colours which I found a little boring, but because of the funtionality.
Having had experience with a similar palette, I find that once the mascara dries up or is used up, that space would be left empty. Ditto with the lip gloss. What you are then left with is a bulky palette containing only your powder products which could honestly be fitted in a smaller, slimmer compact of half the size. So, for me, whilst the concept of an all-in-one is well and good, I personally would not get this for this simple reason of packaging. I'd prefer the mascara and lipgloss to be packed separately and the compact slimmed down.
I don't think it helped the cause that I was not taken in by the look of the RMK models too.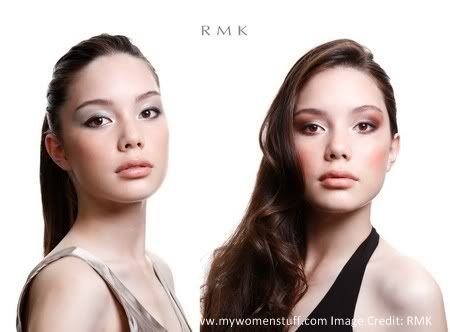 The one on the left (Sophisticated) does come across that way, but the one on the right (Gorgeous Sexy) looks too orange to be attractive in my view and if this was a look created with the palette then I'm not sold. However, this is my view only. The sales assistant assured me that many people had placed a booking for the palette so I guess there are people who do like it.
The RMK palette is going for RM180 at Isetan with every RM200 RMK Product purchase so you get everything for RM380. I'm told this is a special price for Isetan card members. At Pavilion Parkson, I'm told the promotion there would be RM470 or thereabouts. I sort of stopped paying attention because I wasn't keen on it.
So, my answer, Cynthia is that I would stick to the Coffret D'or palette for RM98 each simply because I prefer the way it is packed and the colours available and because I get things I'd actually use at half the price! 🙂
What I was really at Isetan for was to check out the Guerlain Midnight Butterfly collection but it isn't out yet and is only expected to be available next week in Malaysia. Hurry up already! 😛