When I made my first ever Benefit Cosmetics order online, I picked up a Silky Finish lipstick in Nice Knickers. This was purely due to its name, I will safely say. How often can I tell someone that I am wearing Nice Knickers and not have them say "Too much information?!" LOL… 😉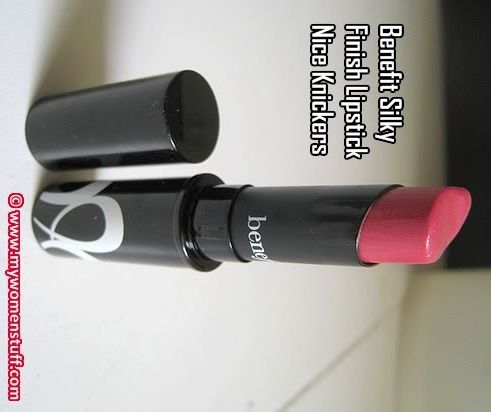 I had no idea how the colour looked in real life as I had no time to get to a Benefit Cosmetics counter, but when I received it, I was very happy because just one sight of it told me it was just the right colour for me.
Packaging
Benefit Silky Finish lipsticks are packaged in a metal case with a glossy black finish. There is a stylised loop design on it in white, which is the only embellishment on this otherwise serious looking product.

Performance
You can see that the lipstick is well used. I have this more or less permanently in my lipstick holder in my makeup pouch which is transferred from one bag to another as I rotate my handbags. The colour is a cool toned berry red which I love and which looks pretty good on me, if I don't say so myself. I wear it with cooler toned makeup as I feel it brings out the colour better. When worn with warm tones, it clashes a little.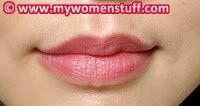 The texture lives up to its name – Silky Finish. The lipstick applies very smoothly and a little sheerer than what you see in the tube. This is great because I like sheerer lipsticks as opposed to opaque colours. Not to say it isn't pigmented because it is. It doesn't dry out my lips – important! – but because its a little slippery, it does disappear rather fast after drinking and eating.
There is a slight shine (no shimmer) to the lipstick which is nice. I like using this lipstick for those days when I want a brighter lip colour but don't want to wear red. I'd say that those wanting to wear red lipstick but are afraid to because it is too red, can try Nice Knickers. It is a wearable red because there is a berry tone that tones down the colour a tad.
Price
I bought the Silky Finish lipstick online at Benefit Cosmetics for US$18 each. I think it retails for RM68 in Malaysia and it can be easily found at all Benefit Cosmetics counters.
Pros:Nice finish with shine, Smooth, Nice colour

Cons: A little pricey
[rating:4/5]